Sherry's resurgence over the last twenty years is largely due to the fact that sherry was used extensively in cocktails during the pre-prohibition days. You can pick up any cocktail book from the 1800's and find multiple recipes that call for sherry, and since today's bartenders are constantly referencing the history of cocktail culture, they are experimenting with sherry more and more. Of all the old school sherry cocktails, there is one that is by far and away the most popular and versatile: The Sherry Cobbler.
Origins of the sherry Cobbler cocktail
Like many of the cocktails from the pre-prohibition days, the origins of the Sherry Cobbler are very hazy. It is believed that the Sherry Cobbler was most likely created in America sometime around 1830. The first written reference to the cocktail was discovered by famed cocktail historian David Wondrich and was found in a diary belonging to Katherine Jane Ellis, a Canadian who took note of the drink during a trip to the US in 1838. The drink did not take off in popularity until 1844, where the Sherry Cobbler was featured in Charles Dickens' The Life Adventures of Martin Chuzzlewit. The original recipe for the Sherry Cobbler is quite simple: amontillado sherry, sugar, and citrus. Using this recipe as a template, it is extremely easy to create variations of the Cobbler by using fruits and herbs that are in season, as well as by utilizing one of the many fruited liqueurs and syrups that are available today. Below is the original recipe for a Cobbler, along with some fun variations for you to try at home.
Best Amontillado for a Sherry cobbler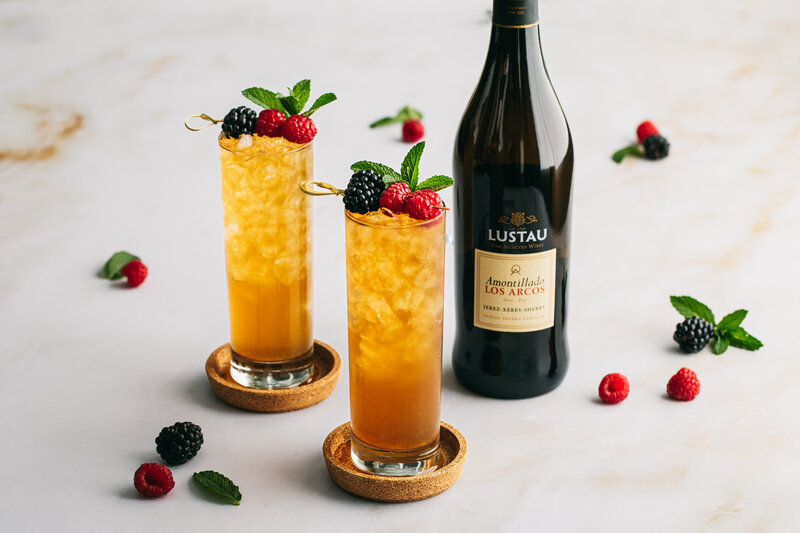 For our classic Sherry Cobbler recipe, we decided to use Lustau Amontillado Los Arcos. Aged for equal periods under "flor" and in contact with the oxygen, in Bodega de La Emperatriz" in Jerez de la Frontera. This dry amontillado acquires a genuine, rich and nutty flavor through years of aging. Amber in colour, with hazelnut aromas on the
nose. Light, soft and round on the palate, with a long aftertaste. This wine represents the perfect balance between biological aging and oxidative aging. Thanks to this aging aspect, the amontillado really adds a nice layer of depth to the traditional recipe.
Check here what does biological aging process mean here
Sherry Cobbler cocktail ingredient list
3oz Lustau Amontillado Los Arcos
.5oz Simple Syrup
3 Orange Wedges
Garnish: Mint Sprig, Lemon Wheel, Seasonal Berries
How to prepare a Cobbler cocktail with Amontillado in 4 easy steps
In a mixing tin, muddle the orange wedges and simple syrup.
Add Lustau Amontillado Los Arcos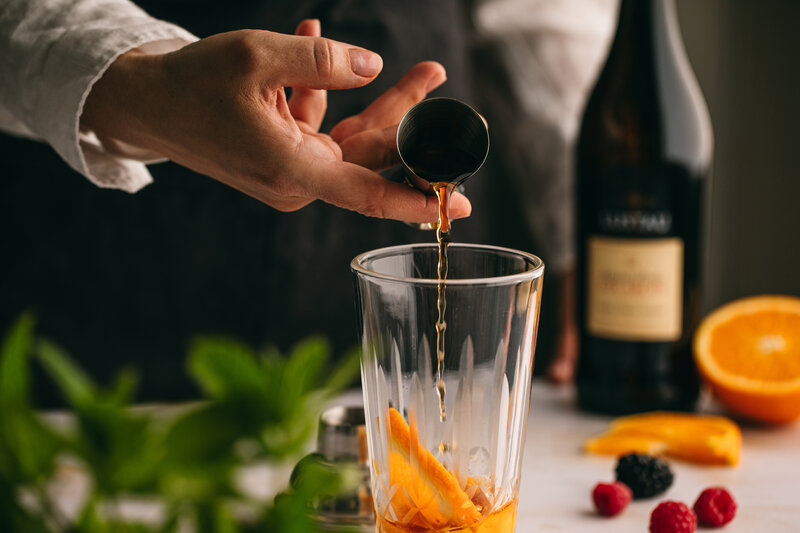 Add ice, shake, and strain into a Collins glass filled with crushed ice.
Garnish with mint sprig, lemon wheel, and berries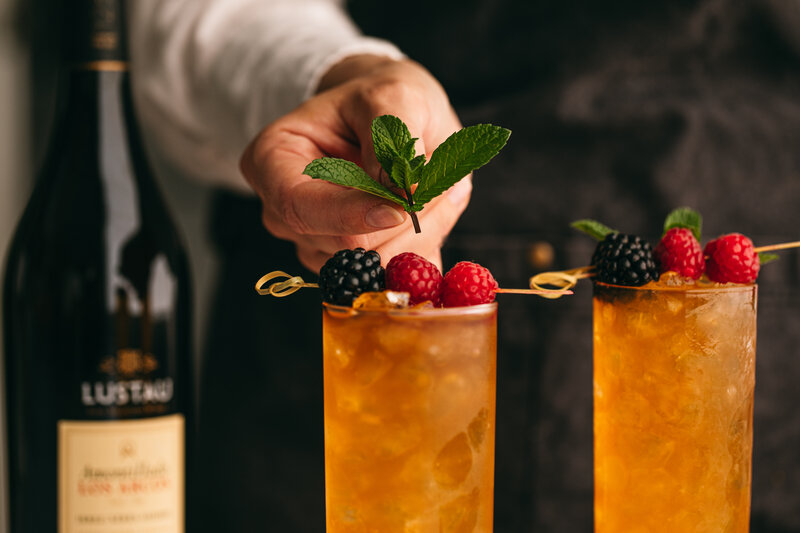 Cobbler variations
Berry Sherry Cobbler
3oz Lustau Manzanilla Sherry
.5oz Giffard Muroise Du Val De Loire
.5oz Lemon Juice
2 Dashes Scrappy's Grapefruit Bitters
Garnish: Orange Wheel, Mint Sprig, and Berries
Vermut & Sherry Cobbler
1.5oz Lustau Fino Sherry
1.5oz Lustau Vermut Blanco
.5oz Lejay Cassis
.5oz Lemon Juice
Garnish: Rosemary Sprig and Lemon Wheel
Get the latest news about Sherry in your inbox!