By: Chelsea Anthon
About the author: Chelsea Anthon is the founder & CEO of Chelsea & Co. Agency, a women-led team of international digital creatives & marketers leading the way in digital transformation of wine & spirits. The International Sherry Week, the digital transformation of both the D.O. Jerez-Sherry-Manzanilla and the D.O. Cava are just a few of her agency case studies.
Wine has been an integral part of human culture for over 8,000 years, and every aspect of wine-making, from fermenting grapes to tasting a glass of wine, has evolved through centuries of rich history and deep cultural significance. Nowadays, as every other industry, wine has to adapt to the challenges and seize the opportunities of the Digital Age.
How exactly do you design a wine marketing strategy? Where do you even start?
In this article I'll share what I have learned since first pivoting from working as a marketer in TV to a Digital Content Strategist in 2006.
The Audience at the Center of Your Wine Marketing Strategy
It not only starts with the audience at the center but they must be at the core of your marketing thinking, always.
Like any good wine marketing strategy, whether online or offline, it all starts with who you're talking to. Defining the target audience and what you want them to do, or how you want them to feel and react is the cornerstone of any great marketing strategy.
Once we determine this, you can then define how to reach them and what kind of content and on what online channels suit them best. It's based on demographics, location and the huge amount of real-time data that digital offers marketers (knowing how to analyze and interpret the data is not trivial either).
Once you have this clear, the sky's the limit on the creativity you can apply to capturing attention in the digital age.
The Importance of a Comprehensive Wine Marketing Strategy in the Digital Era
Have you considered how connected we are? Maybe you start the day checking the news from the New York Times app, then jump to your favorite newsletters while you drink your coffee, check social media during your commute and procrastinate a bit when you arrive at the office surfing the web.
Each of these interactions with a screen is an opportunity for a digital wine marketer to engage with target audiences. Gone are the days of focusing your marketing efforts on one channel such as TV or radio. With so many different touch points available in digital, no single channel should be thought of in isolation – you have to think of an ecosystem inhabited by consumers hungry for content.
Your socials, your web, how you are represented on e-commerce, your newsletter… every single touch point must be considered to be effective in wine digital marketing. You have to be consistent in the messages you launch, take care of the execution and visual aspect, and adapt to the moment in which the user interacts with your content on each platform. Consider it a journey… while always listening carefully to the immediate feedback.
In the Digital Age it makes no sense to launch a message, sit down, relax and wait on a results report a month later. It is a 360 all day, every day.
How to Tailor Your Wine Marketing Content for Specific Audiences
In the previous section I wrote audiences, plural, on purpose. Most companies have always had more than one audience and have adapted their message. It's a missed opportunity to address a supplier the same as a customer or an employee.
Digital allows us to go much further, because the tools we have to define audiences today have gone from the generic socio-demographic profile to nearly surgical detail.
This lets us design content to appeal to each target audience, to redesign it upon the feedback received or even launch different messages to evaluate which works better.
Roughly speaking, if your strategy is B2B, the focus is generally on educational content, valuable content that will support them to sell your wine to their clients, consumers, etc.
Whereas, B2C content generally tends to be more lifestyle centered; how to consume it, pairings, and inspiration – essentially, we aren't selling a glass of alcohol, we are selling an experience.
Wine marketers are increasingly using digital channels to reach consumers, engage with them, and create brand awareness. Here are some of the trends wine marketers are doing in the digital space:
Social Media Marketing in the Wine Industry: Importance of Both Organic and Paid
Instagram, Pinterest, YouTube and LinkedIn; these are relevant when content is tailored to each platform (as the audience may change and so the focus, too.)
Choose wisely your formats, tone of voice, message and balance a mix of organic and paid as, remember, all of these social media platforms are companies that reward those brands that generate revenue for them.
Use of brand Ambassadors, not social influencers
Unless you can measure how much an influencer has influenced a sale, you're not doing digital marketing by paying for one to talk about your brand. From my experience with wine marketing, unless you are a megastar endorsing your own brand of wine, I personally have not seen ROI from working with influencers to market wine.
I do, however, have great respect for working with ambassadors who happen to also be content creators, who have a solid reputation among their followers and who, usually, have a tangible net in the 'real world'.
Relationships with ambassadors have to be considered not as a tactical short term one shot, but as long term conversations that enrich both the brand and your ambassadors.
The Role of Virtual Wine Tastings should have in your digital wine marketing strategy
During the pandemic, virtual wine tastings gave people who didn't live in cities or weren't able to travel the opportunity to taste wines from all over the world.
Just because the pandemic is over, the desire to taste online should not be ignored. Socializing is important but the comfort of tasting from your home is obvious. Think about how many hybrid job roles have appeared!
E-Commerce: let your story be your sales tactic
E-commerce has become a critical channel for wine marketers, facilitating certain operations and providing very detailed information on the consumer. Here, what will make you stand out is your story and presentation. It's never been more crucial to invest in appealing hero shots of your bottles, pairing and recipe ideation, and SEO centric copies.
Online Wine Education: Key for Your Marketing Success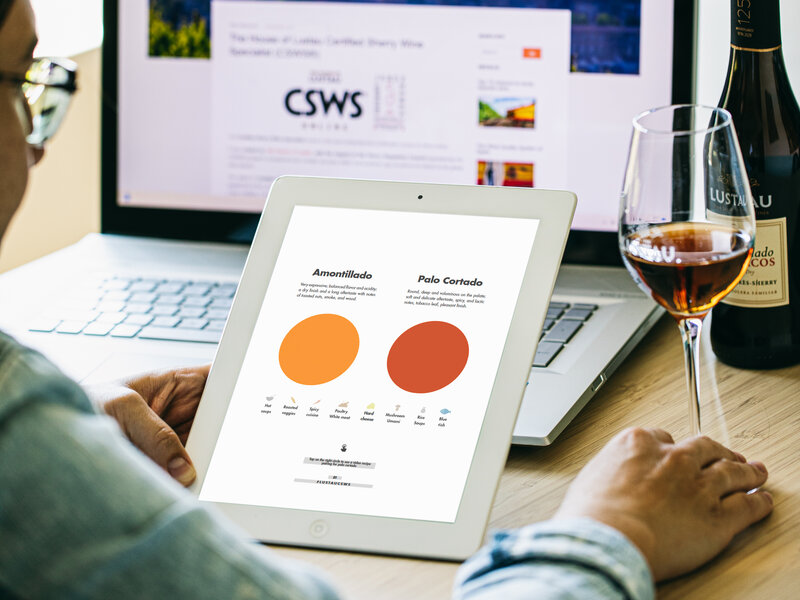 Lustau has been leading the way in sherry education since 2018 with their CSWS program, focused primarily in the USA. In 2020, the brand launched an online version in collaboration with the well-established online learning platform, Wine Scholar Guild, and now boasts more than 4,000 certified CSWS throughout the USA.
What this growth shows me is that online wine education is not a mere trend, but a channel that is here to stay.
How can Sherry use digital to connect with consumers on the next level?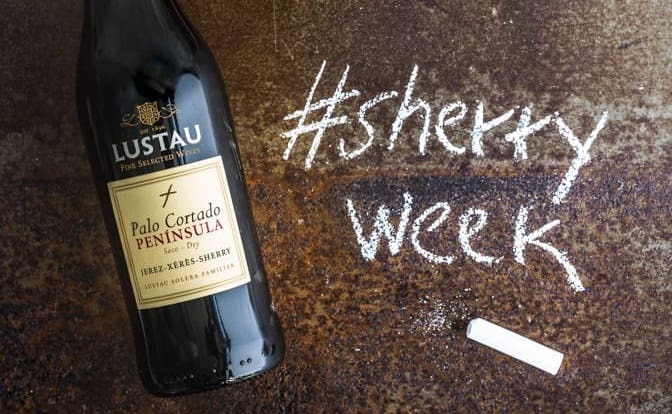 Let's go back to International Sherry Week, where my love affair for using digital channels to market wine all began. Taking all of the above into consideration and I consider, modestly, it to be one of the best use cases worldwide of how digital (and not only digital) gives us a perfect mix of tools to both connect and inspire professionals and consumers alike to discover, promote, and fall in love with the sherry wine category.
The numbers speak for themselves. The hashtag #sherryweek generated more than 15,000 user generated posts every year during the campaign. Despite Instagram stating that they are moving away from hashtags and moving more into SEO-centric content to compete with TikTok as a search engine, I don't believe hashtags will completely disappear. They have become part of pop culture and will always function as a great way to tag a campaign or a movement – just like the #sherrylover movement which I personally started in 2016 as a way to tackle negative connotations with the word sherry. This hashtag has produced more than 50,000 user generated posts on Instagram alone.
Lustau's social media presence gives us another great example of how a brand defines its tone of voice and speaks both to its end consumer and the entire value chain. They are consistent with their messaging, providing both lifestyle content to the consumer and educational content to the professional.
The entire category of sherry gives us an abundance of content. From fascinating storytelling to its influence on the cocktail world to its appeal to foodies, travel lovers and photographers from around the world who delight in the beautiful bodegas and gorgeous landscapes… All of this and more provides a wealth of material for digital marketers to take advantage of.
Rich content combined with online education is, in my mind, a key combination for drinks brands that aspire and deserve to reach a worldwide audience. The success of CSWS proves that the digital world is full of opportunities to those marketers who want to make the most of it.
Get the latest news about Sherry in your inbox!