As it has become a custom of ours, we looked at the calendar this month to share with you some of those National Days that catch our attention. On Saturday, April 16 the US celebrated National Eggs Benedict Day, seriously! Well, I am partial to Eggs Benedict so a declaration worthy of mention. As always, besides bringing some bullet-proof internet recipes for you to prepare at home, we will also give you our liquid pairing suggestion, and yes, you guessed correctly, it is going to involve some sherry wine or beverage.
When is national egg benedict day?
National Eggs Benedict Day takes place each year on April 16th.
Why egg benedict day is celebrated on April 16th
We don't know why and there are not references to why April 16th was the day to celebrate this dish however we encourage you to not to wait until next April 16th to enjoy this fabulous meal.
Origins of the egg benedict
We found more than one theory about the origins of Eggs Benedict, but we like this one and will grant it favor:
"In the early 18th century, Pope Benedict XIII liked an egg dish so much that he requested it time and time again. Many believe that Pope Benedict XIII had an illness that added to his desire for this particular egg dish, hence the name Eggs Benedict."
If you would like to learn more about who Pope Benedict XIII was, click here.
Eggs Benedict recipe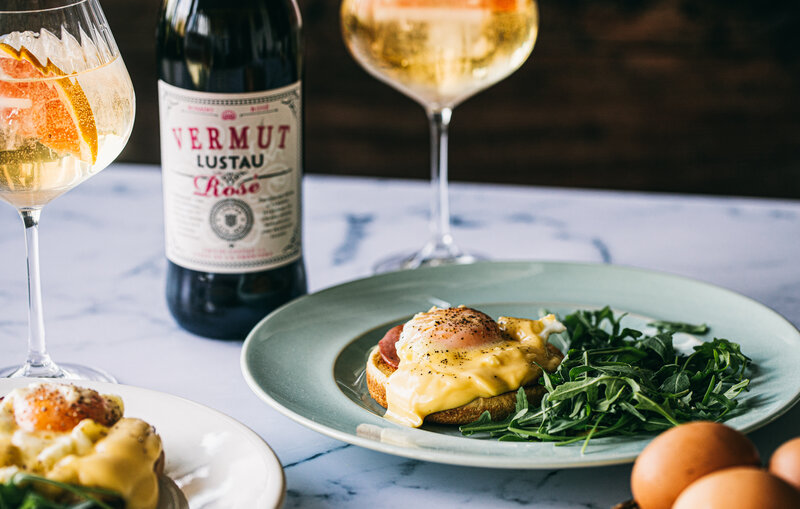 If your plans are staying in with family or inviting some friends over, we got your back. We like this recipe we found on the web; it seems very detailed, with tons of extra tips and alternatives, what's more the pictures look really yummy!
Ingredients:
8 slices of bacon or 4 slices of Canadian bacon
4 large eggs
2 teaspoons white or rice vinegar
2 English muffins
Butter
2 tablespoons chopped parsley, for garnish
Hollandaise Sauce:
10 tablespoons unsalted butter (if using salted butter, omit the added salt)
3 large egg yolks
1 tablespoon lemon juice
1/2 teaspoon kosher salt
Dash cayenne or Tabasco sauce
Sunday brunch wine recommendations – Pairing brunch and Sherry
In the US, brunch means an experience; family members or friends gather around a restaurant table to celebrate the weekend. Brunch is normally offered on Saturdays and Sundays between 11am and 1:30pm, or even 4pm (some authorized voices claim that "the whole idea of eating lunch on a weekend doesn't even exist"). Brunch is also the traditional time to order Eggs Benedict. If breakfast is all about coffee, tea, or OJ, for many, having wine or cocktail as an accompaniment for their brunch is a very popular choice. "A sherry cocktail?" Offers the waiter… "Sure why not!"
Where does the word "Brunch" come from?
As you may be aware of, the word brunch is a combination (portmanteau) of breakfast and lunch, in fact, it involves a late morning meal eaten instead of breakfast and lunch. Brunch originated in England in the late 19th century and became popular in the United States in the 1930s.
Sherry pairings with Egg benedict – Pairing Vermouth Rosé Spritz with Egg Benedict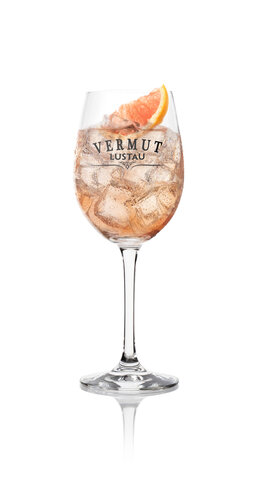 As promised, we are going to recommend a cocktail for this special time that fits like a glove. To us, it makes total sense; not only are we on the weekend—when cocktails during brunch have become an organic choice for many Americans—, but also, many wines (particularly red) may be somewhat challenged by the Eggs Benedict's runny, rich, and super creamy texture. So, the cocktail it is! Here you go, Lustau Vermut Rosé Spritz:
Ingredients
2 oz Lustau Vermut Rosé
3 oz parts of your favorite tonic water
Pink grapefruit wheel
Steps:
Fill your large wine glass with plenty of ice.
Add Lustau Vermut Rosé and top with tonic water
Gently stir until both parts are properly interlaced.
Garnish with a pink grapefruit wheel
Get the latest news about Sherry in your inbox!