What do you pair with floating food? Sherry, of course!
This month, I had the pleasure of interviewing former Alinea executive chef Mike Bagale. After spending nearly a decade at one of the best restaurants in the world, Mike is now tackling his new venture – Superfood Concepts.
Mike is a world-class chef changing the way people eat, creating gastronomic experiences never seen before such as his iconic edible helium-filled sugar balloon.
On top of all of his inspiring achievements, I was thrilled to find out that he is also a #sherrylover. The versatility of sherry makes it – as Mike said – "the perfect food pairing".
Check out my interview below and find out what inspires Mike – from travel to fashion to art and even to… Willy Wonka and the Chocolate Factory!
Please discover the special recipe Mike Bagale created using sherry vinegar! Scroll down to reveal the recipe and photo!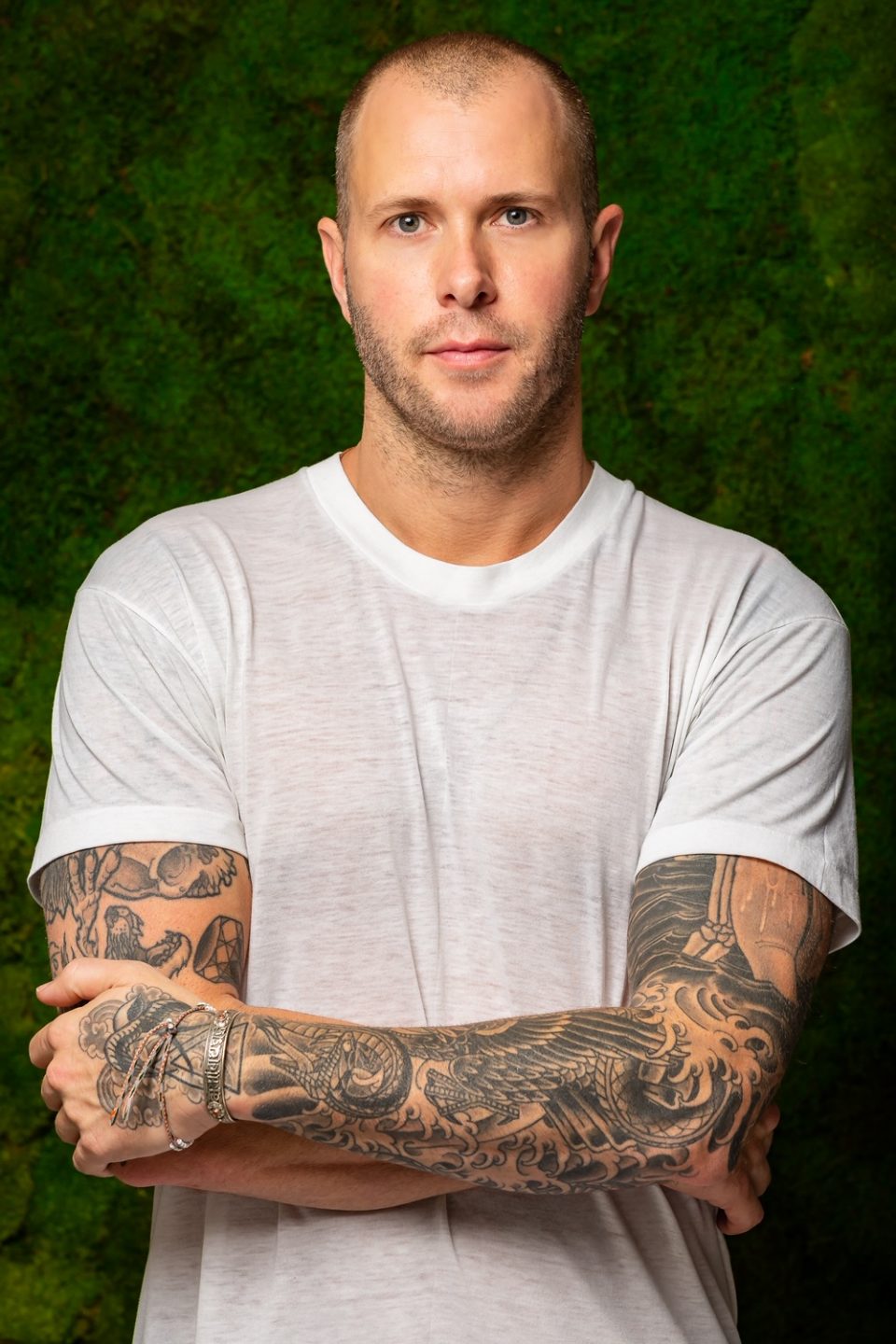 When did you realize you wanted to be a chef? I know that you have said you had an adventurous palate from an early age?
I've always loved eating and trying new ingredients. When I was younger, even before I began film school, I wanted to be a writer/ director. I remember creating unique dishes and flavor pairings and incorporating them into my writing and screenplays. I was always intrigued by the limitless forms of creating flavor combinations. When I started cooking professionally, I had a deep desire to learn the classics, and then use my creativity to create my own style.

I know you've always been influenced by art and fashion. When/what was your first experience integrating art and food? Can you talk to me about your creative process creating a menu for Beyond Art?
Art and fashion have always be the biggest influences for me. My initial experience was the first time I was given carte blanche to write my first menu. Influences of different mediums, colors, and textures has always inspired the look and feel of dishes I've created past and present. For my Vogue collaboration, I allowed iconic photography to completely dictate the flow of the dining experience, as well as the look and feel of the plates. That menu was specifically all about 'How can I pay homage to these world-renowned photographers through a food experience?' It was a beautifully humbling experience that allowed me to change my creative process indefinitely.

Tell us more about the famous "Edible Balloon" you created at Alinea? I heard Willy Wonka and the Chocolate Factory inspired you and you created these one of a kind Apple Taffy Balloons that float?
Correct. When I was in culinary school, I had an idea to create edible bubbles. As I matured and grew in my technique, I waited until I was in an atmosphere that I felt could support that creativity and began to really work out the process. In a matter of weeks, edible bubbles turned into edible balloons. The rest is history.

Today, through your consulting company Super Food Concepts you have collaborated with international brands. Please tell us more about your collaboration and what you created for Sakara, and what made you connect to their philosophy? Tell us more about the process of creating your menu for Sakara.
Sakara was an amazing experience. Whitney and Danielle (the founders) are lovely and have created a culture of healthy, delicious, and natural food delivery that speaks to me and my mission to serve delicious, naturally healthy food as well. It was a very natural fit that, like my Vogue project, allowed new forms of creative thinking.

We have heard that you are a sherry lover? Tell us more about your preferred style of sherry and some pairing suggestions?
I Love Sherry! It's a perfect food pairing as well. My preferred choice is Amontillado or Oloroso. In the summertime, I like a simple fresh raw sweet corn, feta cheese, cracked pepper, Marcona almonds, and snap pea salad, dressed in olive oil and sherry vinegar. In fall/winter I like to pair sherry with charcuterie, yakitori, risotto with truffles, hazelnuts and brown butter, and Chinese poached chicken with mushrooms and roasted bamboo shoots.

Get the latest news about Sherry in your inbox!