Sustainability has become an increasing concern for wine producers, shippers, merchants, and consumers. In an era of growing climatic challenges and environmental problems, we can't relax our efforts to minimize pollution and damage, and the waste of natural resources. Sustainability is a multi-layered issue; we all can do our part, personally and commercially. Lustau for some time now has stopped printing unnecessary brand materials since technology facilitates the use of QR codes. Our CSWS® educational program is mostly virtual (or further regionalized to avoid long-distance transportation), with electronic study aids, and with the tasting component of the sherry certification done from your location of choice. Additionally, wineries across the region are making further efforts on the ground to accelerate the much-needed reforms. Climate change particularly threatens viticulture, and drastic measures are being implemented to solve this problem. Furthermore, we could say that, overall, our traditional processes are considered among the most unchanged and eco-friendly, but there is much to do at all levels.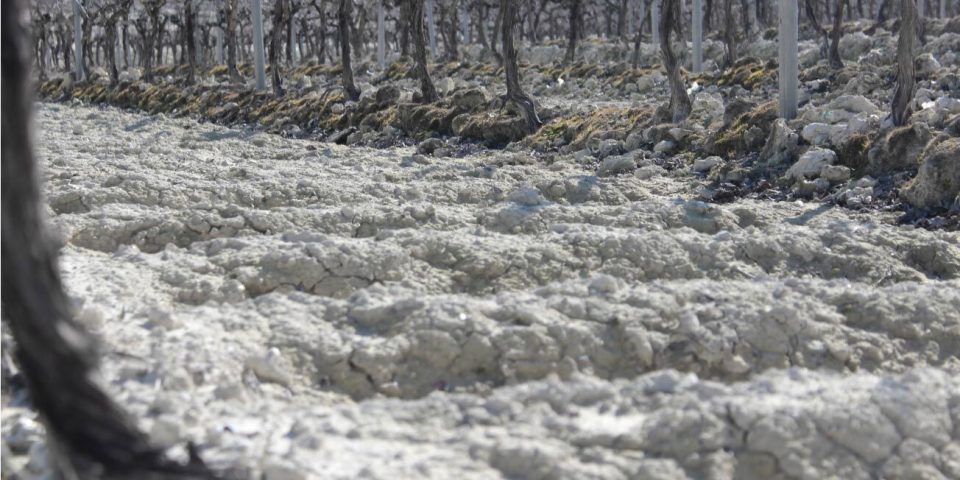 Sustainability in bars
In the prolific bar scene, some important steps are also being taken, so we reached out to one of the most experienced professionals in the field to get some true insight. Kelsey Ramage has over 17 years of experience in the hospitality business, ranging from educator, entrepreneur, sommelier, and bartender. She is the founder of the Trash Collective, among many other projects including Supernova Ballroom (cocktail bar), Dolly Trolley Drinks, pop-up Black Lagoon, and the original Trash (Tiki), alongside co-founder, Iain Griffiths. Trash started as an online recipe platform that reused common cocktail waste ingredients and quickly became a global pop-up touring over 14 countries whose recipes have influenced bars and bartenders around the globe. Kelsey has consulted on sustainability and drinks strategy for brands such as Absolut, Pernod Ricard, Earl's Restaurants, and Discarded Vermouth to name a few. Below are the questions we asked her along with her bright answers:
What was your inspiration and motivation in forming the Trash Collective (TC)?
We just saw the food sector (chefs, restaurants) really taking charge of the movement; food waste pop-ups, more visibility to locally grown produce, and credit to farmers, and noticed that this hadn't caught on with bars. We wanted to ensure that growth happened and thought it was necessary. The main difference between food and drink, for us, is that one is necessary to live, and one is not, so there's a tendency to treat drinks as less important, sometimes less seriously than food. However, both have just as much of an impact on the global ecosystem, so need to be treated as such.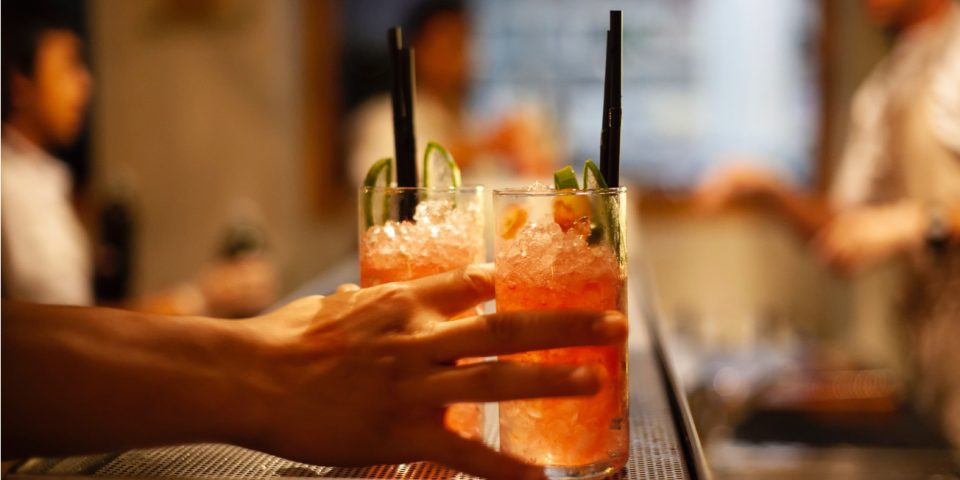 – It's interesting for us to weigh in on how the sector has created organizations to collectively tackle sustainability issues. From what you've learned since forming TC in 2016 as an anti-waste bartender education platform, what are the issues that are of most concern to the bartender community? And why do you think this is?
When TC was formed, our focus was on food waste, which is still majorly important, bars have much less of a footprint when compared to grocery stores, food wholesale, and restaurant businesses. The real problem is packaging and recycling waste. Especially in the US, where many states don't even have government-run recycling facilities, so many of the thousands of glass bottles we go through on a weekly basis end up straight in landfill. It's the single largest waste contributor, outside of chemical and plastic waste, that has not been addressed.
– In 2020, The Spirits Business wrote a piece saying that the beverage industry's sustainable strategies and practices were considerably behind the times. There has been a noticeable shift in the past couple of years as consumers demand more accountability from products and places where they consume. Do you think this is the catalyst to action forcing the system to modify practices? Or, in your opinion, has championing causes from within had the most impact in pushing for movements like zero-waste? Are there challenges when approaching and converting to a zero-waste proposal that slows down overall acceptance?
It's actually both – starting in 2010-2015 with folks like Dan Barber, Alice Waters, Jane Goodall, and the like creating menus, pop-ups, books, and conversations about our broken food systems that really brought these issues to the attention of the consumer. Without these people, I don't think the consumer would make the connection between the hospitality industry and issues like global warming and food/plastic waste. That said, we've now created (some) more discerning folks that actively seek out sustainably minded restaurants and bars. The folks I mentioned above, who created the trend, have had a river effect on their followers – and now we're seeing a flood of amazing bars and restaurants looking at every aspect of their business and re-evaluating and revolutionizing the way they operate. I don't think this is because of a consumer base that is actively asking for this type of bar or restaurant, I think it's because major issues have been brought to light and other hospitality operators are noticing this as well, making the changes that really need to be made right now.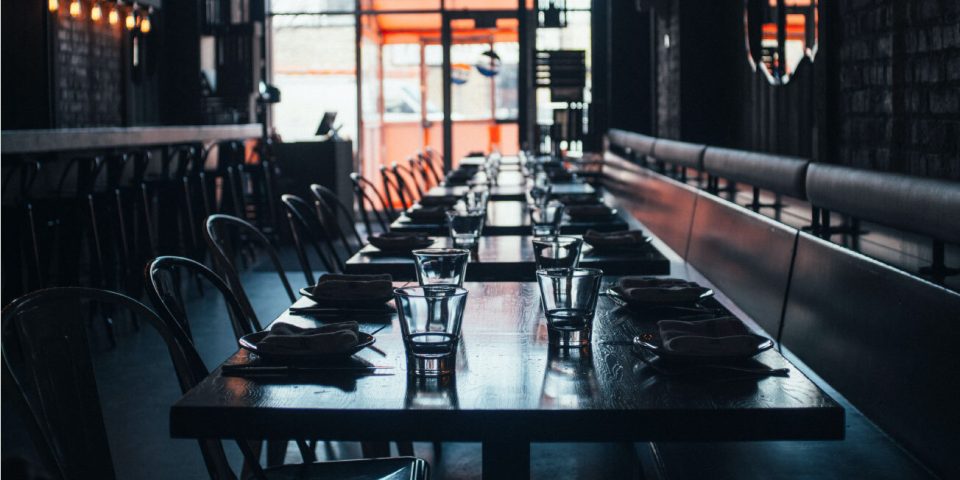 – Since there is always a cost margin to the survival of businesses, does zero-waste education offer benefits that appeal to restaurant/bar supporters? In which ways?
In some ways yes, the re-using of ingredients and being smart with produce orders has always been something that kitchens did, out of absolute necessity. In terms of things like innovations in packaging, it's definitely a yes and no. Often 'greener' cleaning supplies are more expensive, or just in limited supply in many places. Major business changes, such as double-pane windows, and switching to more energy-efficient lighting, solar energy panels obviously have a bigger up-front investment with longer-term savings over time. What's great is that things (in some countries) like the Paris Agreement have meant an increase in government grants which can be applied to counter the investment required. The biggest sector we've seen this impact is distilling, in Scotland specifically.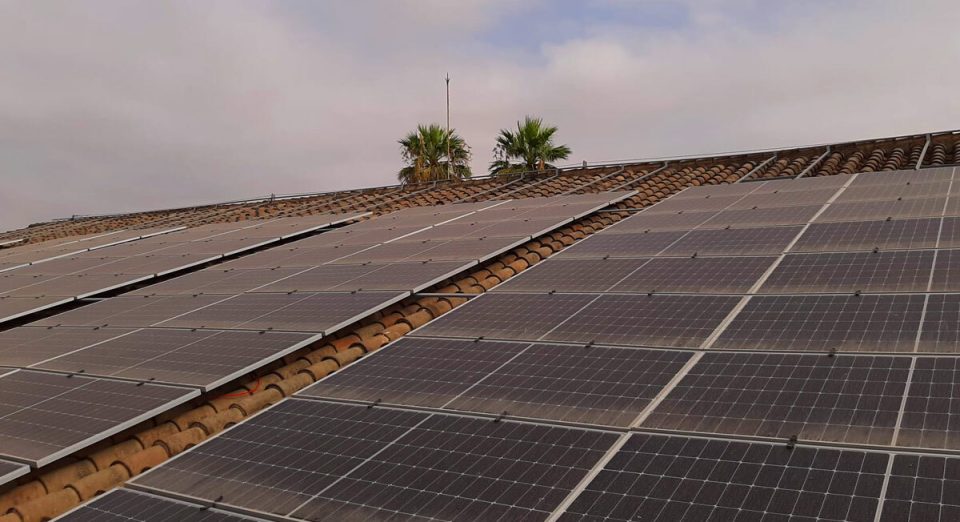 – Through Trash Tiki and bartending expert groups, you are involved in offering low-waste recipes and sustainability tips, but what can small brands do to further these efforts?
That's a tough one! We've always partnered with brands that also employ sustainable efforts themselves, no matter how big or small. We love educating bartenders about the importance of supporting these brands through their cocktail menus and pop-ups. Finding local purveyors and farmers we can support always goes hand in hand with this stuff. Each market has unique challenges when it comes to tackling big issues like food waste and recycling so just starting and maintaining this community is the biggest thing.
The alarming impact of climate change on the sustainable production of under-flor sherry
According to jancisrobinson.com "a well-planned winery development can conserve resources, manage waste, and noise pollution, and be easy to maintain …Nowadays wineries should be efficient in energy and resource consumption, suit the individual styles of wine and winemaking and, of equal importance, support the brand image, often through architectural appearance, public display of winemaking processes, specialized hospitality and cellar door facilities, and other amenities designed to engage the tourist and customer."
But were wineries already like this dozens of decades ago? Last month we published an extensive article on the historic winemaking role of the spectacular bodegas in the Jerez region. Most of today's standing wine-aging facilities in Jerez were built between the second half of the 18th century and the 1900s. One paragraph of the article reads: "The Jerez bodegas are instrumental in the production process for two main reasons: 1) the thoughtful design of these centuries-old urban constructions is extremely functional and efficient in maintaining the conditions for the wines to finely develop—the aging process of sherry wines requires very precise environmental conditions, which do not always exist in the climate in and around the Sherry Triangle (which is where most producers are found). 2) Based on the actual design—orientation, size, height, amount of shade provided, etc.—and their specific location, there will be substantial variations in the effects that are printed on the wines sitting in them. Every detail in their configuration counts and cellarmasters must get to know these variables to comprehend their prospective impact and to be able to manage them—to play with them as needed. A fascinating toolbox supplying extra possibilities!" As further described, the aging process of sherry wines takes place in buildings known as 'Cathedral-style' wineries that, due to their smart architectural features, generate enough natural dynamism for them to be considered fabulous examples of Nearly-Zero Energy Buildings (NZEBs).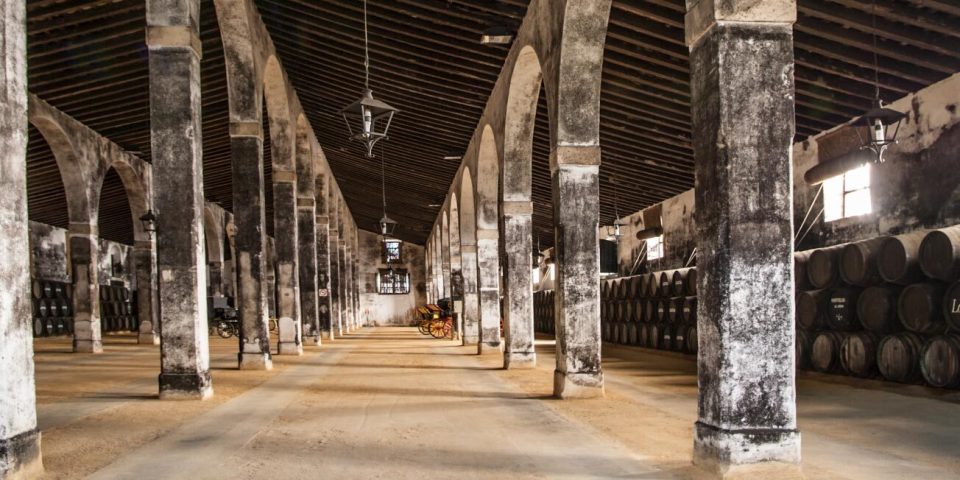 For centuries, they have been used to provide specific environmental conditions without any type of mechanical heating/cooling system. However, this remarkably sustainable production process, so strongly influenced by external climatic conditions, might be affected by the phenomenon of global warming.
A recent study performed by the Universidad Politécnica de Madrid concluded that the likely increment in average temperature in the Jerez aging zone (especially during the summer), would exceed the 'comfort' limit of the flor yeast compromising the formation of the famous veil, a vital necessity to produce the celebrated finos, manzanillas, and amontillados wines.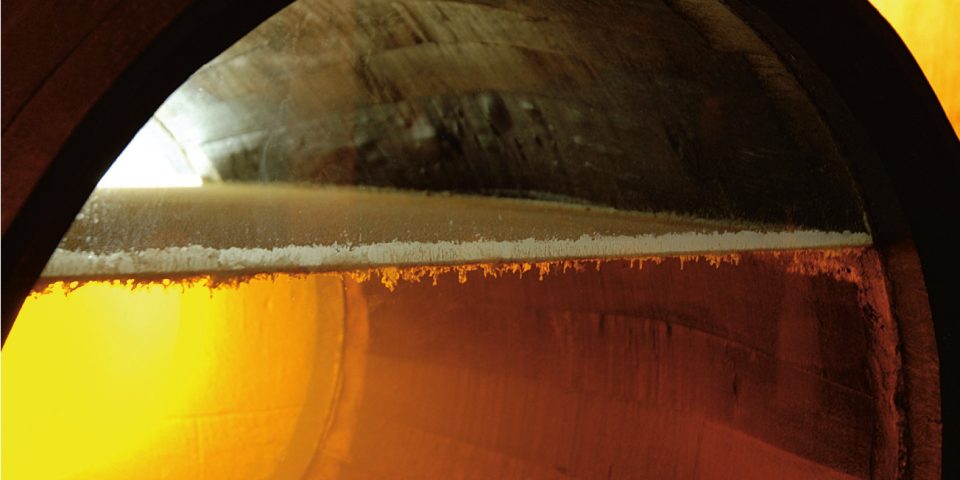 Based on this theoretical excess heat, the microorganisms responsible for this unique process could not maintain their activity, thus they would disappear, since under-flor aging requires very limited thermal conditions, in addition to an abundant presence of oxygen, which implies constant ventilation of the cellars. When these environmental conditions change, this biological process may be seriously affected. "Given the pessimistic forecasts of the effects of climate change, and bearing in mind the demands of biological aging, it is uncertain whether the "Cathedral warehouses" will continue to be an example of NZEB in the near future, or if on the contrary, the current production model could be compromised." In its worst-case-scenario approach, the paper presages that "this fact will force the sector to face a harsh reconversion through the adoption of new mechanisms and strategies, which endangers the economic sustainability of an entire region dedicated to this practice." And states that "almost 50% of European Union (EU) final energy consumption is used for heating and cooling, of which 80% is used in buildings. In this regard, the EU has proposed to achieve a highly energy-efficient building stock and to ensure that the long-term renovation strategies deliver the necessary progress towards the transformation of existing buildings into Nearly-Zero Energy Buildings (NZEB) (EU, 2010, 2018). The search for construction strategies that allow the reduction of air conditioning needs, while maintaining adequate levels of comfort, is one of the greatest challenges of modern construction with great potential for development in the coming decades."
Under these current circumstances, you may agree that the fine-tuning work developed by these groups of men and women who designed (some of them more than two-hundred years ago) the self-sufficient sherry aging facilities appears today even more extraordinary.
Get the latest news about Sherry in your inbox!