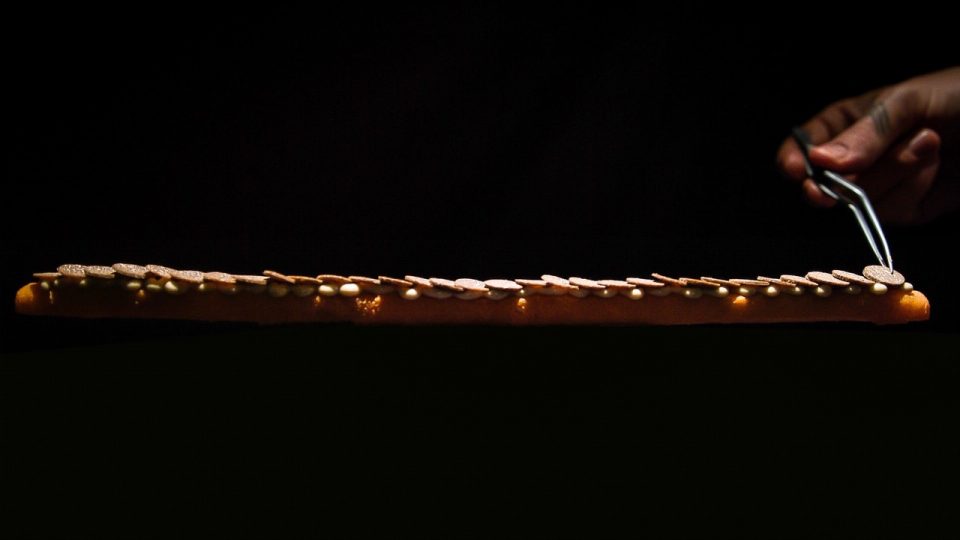 Truffle Fries
200g Manchego cheese, grated
2000g riced potato
10g truffle oil
2 egg, whisked
6g salt
METHOD: Roast potatoes in the oven at 375°F for 1.5 hours until potatoes are completely cooked through. Split potatoes, scoop out flesh and rice using a potato ricer into a mixing bowl. Add salt, cheese, eggs, and truffle oil and mix well until evenly incorporated. Press into sheet tray lined with plastic wrap. Using a rolling pin, roll the top of the potato mixture so that the surface is even. Transfer to fridge for six to eight hours, or overnight. Using a sharp knife, or rolling cutter, carefully slice pressed potato mixture into long even fries about 1/4-inch thick. Transfer to freezer until frozen. Fry at 365°F until crispy and golden. Top with truffle sauce.
Truffle Sauce
75g fresh black truffle
175g egg yolk
385g Parmesan cheese
200g water
30g sherry vinegar
2g black pepper
8g salt
95g black truffle oil
100g grapeseed oil
METHOD: Combine the first seven ingredients in Vitamix and blend until smooth. Carefully emulsify in the oils. Transfer sauce to squeeze bottle to garnish fries.