It's that time of year again, when the cold starts to break and warmer weather gradually begins to grace us with its presence. As the seasons change, we often seek out and welcome food and drink that reflects our surroundings. When things start to heat up, our desire for beverages that quench our thirst and cool us off grows exponentially with the increase in temperature. In a world filled with slushies and punches, there is one classic cocktail that has been helping us usher in Spring and Summer for centuries: Sangria.
Origins of the sangria cocktail
The origins of Sangria date back to the time of Ancient Greece. The predecessor of Sangria was known as Hippocras and was said to have been invented by Hippocrates. This spiced wine concoction called for a gallon of red or white wine, two pounds of sugar, and spiced with cinnamon, clove, ginger, pepper, and mace. Given that the Phoenicians were cultivating vines in the south of Spain around 1000 BC, they too were drinking their own local concoction similar to Hippocras. It's important to remember that most water was not drinkable in these days, so these spiced wine cocktails were created for hydration purposes. The modern-day Sangria was modelled after popular punches that were enjoyed throughout Europe for hundreds of years. Sangria is typically created from red wine, fruit juices, soda water, fruit and sometimes brandy de Jerez. Sangria can also be made with white or sparkling wine, which is called Sangria Blanca or Sparkling Sangria. Our interpretation of Sangria calls for moscatel sherry to accompany the red wine, which adds a nice layer of complexity while using natural residual sugar instead of added sugar.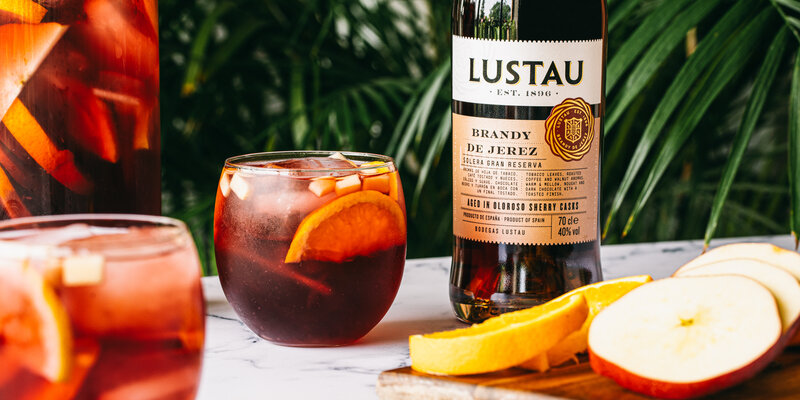 Best Sherry for a Sherry Sangria Cocktail
We used our Lustau Moscatel Emilin due to its bright, jammy notes, which pair very nicely with rioja wine. Also, to enhance the overall experience we decided to include our Lustau Brandy de Jerez Solera Gran Reserva. This brandy, aged for 10 years in ex-oloroso sherry casks will provide the structure and the perfect roundness combined with the moscatel and rioja.
Sherry Sangria cocktail ingredient list
How to prepare a Sherry Sangria cocktail in 3 easy steps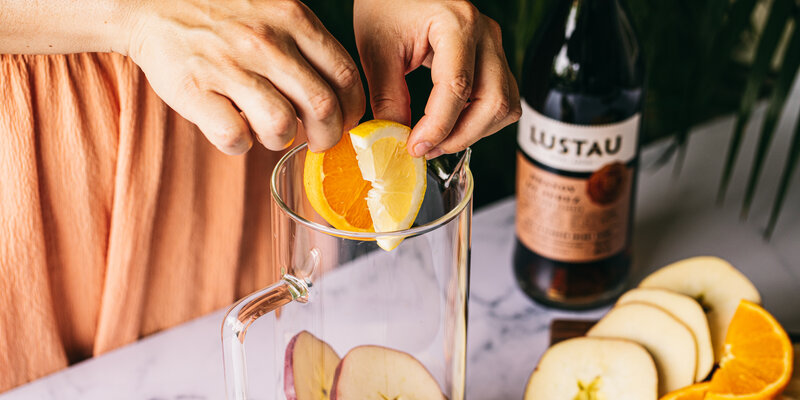 1. Add all ingredients, except club soda, to a wine glass filled with ice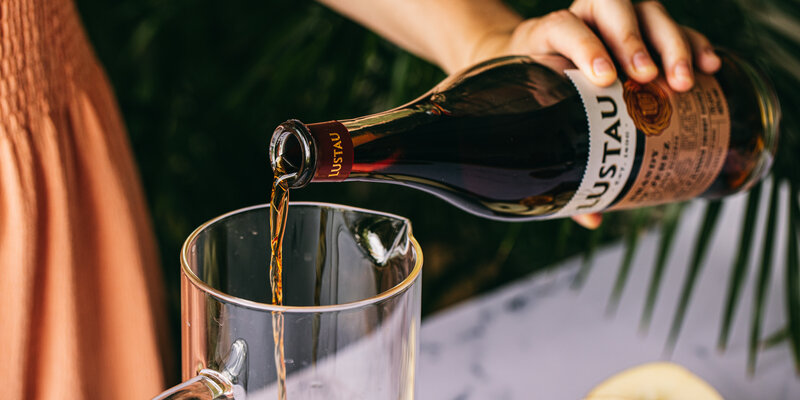 2. Stir, and top with club soda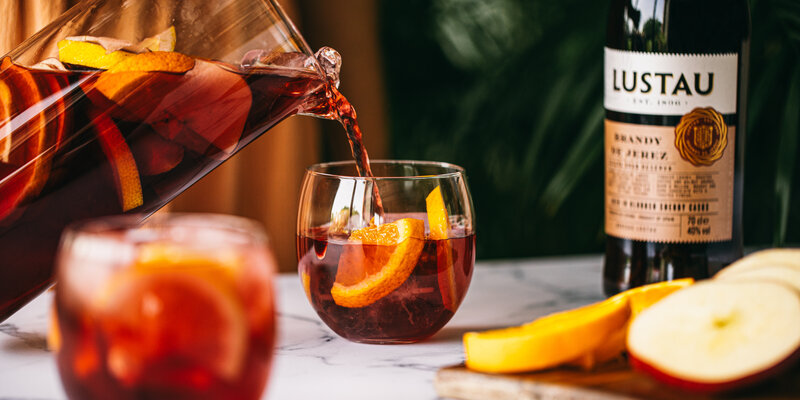 3. Garnish with the strawberry slices, orange slices, and mint sprig
Sangria variations
Vermut Sangria: Sangria cocktail with Vermouth
2 oz Lustau Blanco Vermut
1 oz Albariño
.5oz Mathilde Peche Liqueur
.5oz Passionfruit Puree
.5oz Orange Juice
.75oz Club Soda
Garnish: Raspberries, Lemon Slices, Rosemary Sprig
Get the latest news about Sherry in your inbox!