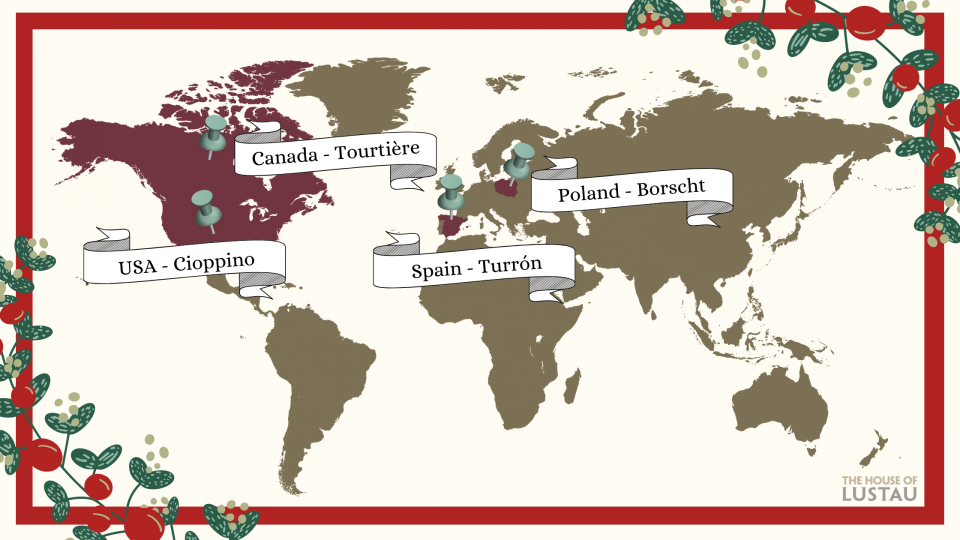 As I sat down this week to make a plan for what to prepare for the holidays, I wondered what traditional holiday dishes are served around the world.
While many countries and families celebrate the holidays differently, there are usually two common elements to every tradition – food and drink!
To get some inspiration for my meals, I decided to go on a virtual culinary tour of the world and found some unique recipes.
Of course, I couldn't help but pair each recipe with a bottle of Lustau sherry!
Sherry & Polish food
First, I headed to Eastern Europe to learn more about Poland's unique tradition of celebrating the Holidays over a 12-course meal that includes classic Polish dishes like Borscht, Mushroom soup, Pierogi, and Poppyseed cake. One of the 12 days is typically reserved as a "meat-free day" and for that reason, beetroot soup, also known as "Borscht" is usually on the menu as a starter!
We invite you to discover this borscht recipe from Edyta at Eating European.
While you enjoy this delicious dish, I recommend pairing it with Lustau's Fino de Jerez En Rama 2020. The chicken stock, lemon juice, dill, and a touch of garlic in this soup balance the natural sweetness of the beetroot and go nicely with the briny and herbal pungency in the wine.
Sherry & American food
Here in the United States, traditional Holiday meals usually consist of a turkey or a roast, a glass of eggnog, and plenty of festive cookies. But, another American tradition involves the "Feast of the Seven Fishes".
Cioppino – an Italian-American invention originating in San Francisco during the late 1800s – is a soup made from seven different types of seafood and is often featured in the Feast of the Seven Fishes. It is a true masterpiece that will make any Holiday dinner memorable.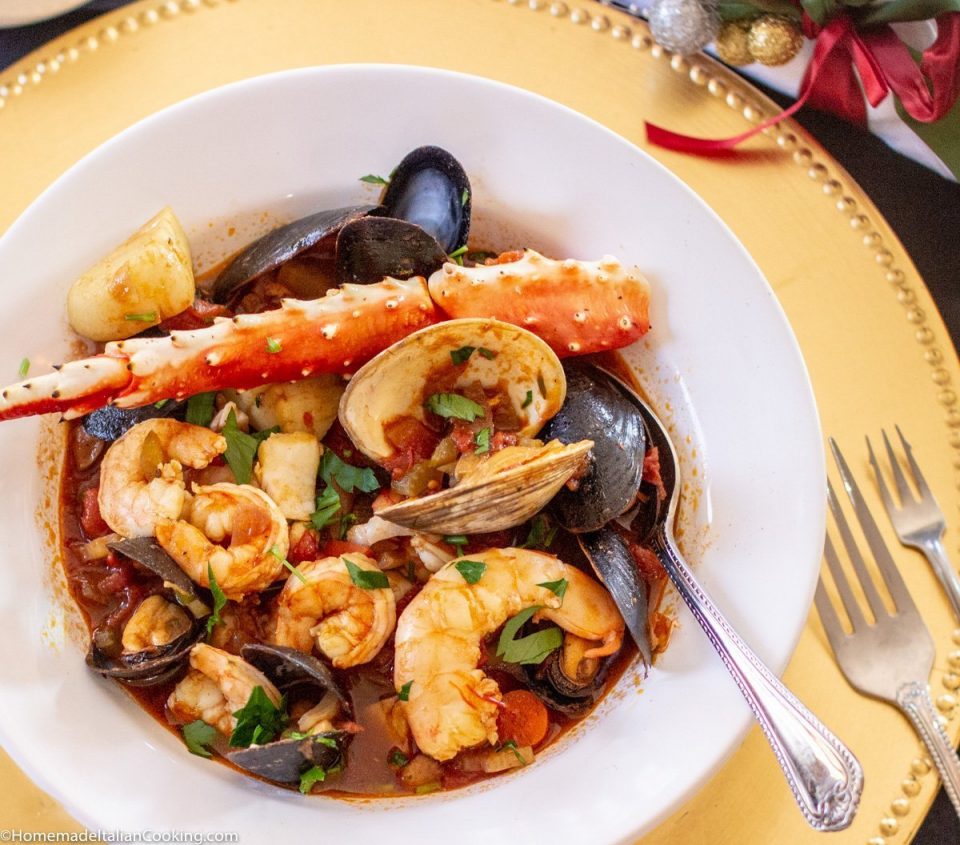 Stock up on seafood and check out this Cioppino recipe from Cara at Homemade Italian Cooking with Cara.
Cioppino would pair perfectly with Amontillado del Puerto Almacenista González Obregón. The fine iodine-like and nutty aromas plus the zesty and salty palate complement this hearty fish stew steeped in a super tasty broth made from shellfish stock, fennel, and saffron.
Sherry & Canadian food
Next, I headed to Canada where I learned that traditions vary by province!
If you are spending the Holidays in Québec, you will most likely find a piece of Tourtière on your plate! In fact, this delicious mince pie made with 3-meats and flavored with spices is a popular meal among French-speaking Canadians. Délicieux!
Check out Vera Abitbol's tourtière recipe in 196 Flavors!
Pair Tourtière with Oloroso Emperatriz Eugenia. A rich dish with a spicy, meaty stuffing; various meats, onions, bay leaves, cinnamon, cloves, bacon… are all ideal ingredients for the wine's spicy, complex and intense flavors, bold texture, and very long finish.
Sherry & Spanish food
And, for dessert, I couldn't help but head to my home country, Spain, for a piece of Turrón de Jijona! Turrón (soft almond nougat) is a Spanish Holiday dessert made of a mixture of sugar, egg whites, almonds, and honey.
This delicious toasted almond and honey treat reminds me of my childhood! It is a must-try this Holiday season, even if you aren't in Spain!
Find out how to make it with this turrón recipe from Caroline at Caroline's Cooking.
Pair Turrón with East India. This toasted almonds & honey-based, sticky dessert will melt with a sip of the very thick and tangy East India. For those who prefer fewer calories, consider a dry Oloroso with extended aging like the Lustau VORS.
Get the latest news about Sherry in your inbox!