If you are one of the thousands of people who have taken our (now mostly online) CSWS® sherry certification course you may have heard me say this: "If I ever had to choose one single dish to enjoy with a glass of sherry I'd certainly feel rather distressed. Only one dish? I actually want an entire tasting menu paired with the unparalleled diversity of sherry wines! From appetizers to cigars… Cook whatever you like, and we will find some sherry style for each preparation." But if I ever had to choose one single dish… I don't know… my wife and I keep treating ourselves to this combination at least once a month (especially in the cold and long winters of New England). It is that good.
Why sherry is the best wine to pair with ramen noodles
Oh boy, I have been waiting for you to ask me this question for a long time… can you think of anything better? A foamy filling beer with a hot bowl of soupy noodles? No, thank you. Multiple types of sherry wines have historically been regarded throughout the world as wonderful soup companions, and it makes sense; first, pouring a few drops of wine into your soup will certainly make it tastier, plus, their intensity of flavor does not require drinking large amounts of liquid, something somewhat awkward when 'drinking' soup. Test it by yourself, sipping small amounts of sherry will literately let you eat more ramen. It didn't take long for talented chef Katsuya from Daikaya, DC to become convinced of the match, you can watch the story below.
What sherry is the best to pair with ramen?
Dry oxidative styles are my number one choice, older finos, and manzanillas are fun as well, but I tend to gravitate over olorosos and palo cortados. There is something about the Tonkotsu porky broth and these types of sherries that is just magic. And as mentioned above, you do not need too much wine, since small sips of chilled sherry will go a long way, and you will be able to eat enough ramen to fill three bellies. This Lustau wine delivers tons of intensity, texture, and complexity. Give them a try and please let us know what you think.
Ingredients need to prepare ramen noodles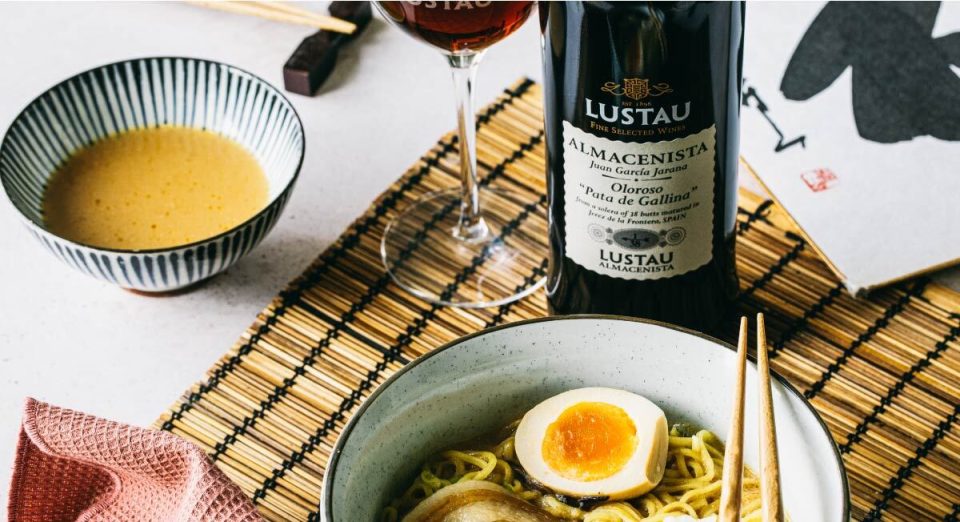 We could have pulled up an internet recipe for Tonkotsu Ramen, but it is a pretty elaborate dish involving numerous ingredients and serious commitment. We believe it is best to let your local professionals show you how it is done, and most Ramen establishments are fairly good at sharing the correct heating instructions for the home. Support your neighborhood's businesses, pick it up from your favorite restaurant! If you still want to make your own ramen soup, then keep reading to learn an easy approach to the savory and full bodied soups found at izakayas. It will take time but surely it will worth the time dedicated!
8 oz Pork tenderloin
4 cloves garlic minced
1 tsp Salt
1 tbsp freshly cracked black pepper please use less, if you don't like spicy food
2 tbsp vegetable oil
1 tbsp soy sauce
2 packets dried ramen noodles (plain noodles, without spice packets)
1 L chicken broth or beef broth, reduced salt (just over 4 cups)
1 inch ginger skin removed and sliced
3 garlic cloves sliced
2 spring onions / scallions cut into large sections
½ tbsp chili flakes crushed red pepper (please be mindful about adjusting spice level to your preference, this was fairly mild for us)
1 ½ tsp black peppercorns either whole or coarsely ground
2 tbsp soy sauce adjust to your taste
115 g fresh shiitakes mushrooms sliced (or about 10 dried shiitake mushrooms, soaked in warm water and sliced)
4 stalks of Chinese greens like baby bok choy or yu choy
1 bunch Enoki mushrooms optional
Extra chopped spring onions to garnish
How to make ramen noodles
Pork

Mix all the ingredients in the spice mix.4 cloves garlic,1 tsp Salt,1 tbsp freshly cracked black pepper,2 tbsp vegetable oil,1 tbsp soy sauceSpread the spice mix all over the tenderloin. Cover and marinade for at least 1 hour, upto overnight (in the fridge)8 oz Pork tenderloinPreheat oven to 350°F / 180°C.When the oven is preheated, roast the pork tenderloin until the pork has an internal temperature registered at 160°F with a meat thermometer. This can take between 20 – 30 minutes depending on the thickness of the tenderloin piece.

Once it's cooked, remove from the oven, cover and let it rest for about 10 minutes before slicing.

Eggs

Follow the recipe instructions for ramen eggs, to make ramen eggs for this recipe. The eggs require at least 2 hours or upto overnight marinating.2 ramen eggsTo make hard boiled eggs (with runny yolks) – Bring a pot of water to a boil over medium high heat (with enough water to completely cover the eggs).Add some salt or vinegar to the water. Lower the eggs into the water gently. To prevent the eggs from cracking, remove the pan from the heat, and lower the eggs gently. Once the eggs are in the pot, return it back to the stove.2 ramen eggsCover with a lid and allow the water to come to boil. Set the timer to cook the eggs for exactly 6 minutes (set a timer). Reduce the heat to a simmer.When the 6 minutes are up, remove the eggs and place them in a bowl with iced water OR under cold running water for a few minutes.

Crack and remove the egg shell carefully. Keep the eggs covered until you are ready to serve.

Ramen Noodles and broth (make this while the pork is cooking)

Place all the ingredients except for the ramen noodles, mushrooms, Asian greens and chopped spring onions, in a pot.1 L chicken broth,1 inch ginger,3 garlic cloves,2 spring onions / scallions,½ tbsp chili flakes,1 ½ tsp black peppercorns,2 tbsp soy sauceBring the stock to a boil over medium high heat. Cover and let it simmer on medium – medium low heat for about 15 – 20 minutes.Once the pork is cooked and ready to be sliced, you can remove the garlic cloves, ginger and spring onions from the broth if you want (we like to eat it all).Add the greens and blanch quickly for 1-2 minutes in the simmering water. Remove the greens and set aside.4 stalks of Chinese greens like baby bok choyAdd the ramen noodles, and sliced shiitake mushrooms and let it simmer for 3 – 5 minutes until the noodles are done.

2 packets dried ramen noodles,115 g fresh shiitakes mushrooms

Assembly

Slice the pork tenderloin into thin slices.Divide the ramen noodles and broth into two bowls.Add the enoki mushrooms and blanched greens over the hot broth, followed by the pork slices, jammy egg, cut in half and the chopped spring onions. Enjoy!

1 bunch Enoki mushrooms,Extra chopped spring onions to garnish
Get the latest news about Sherry in your inbox!