We are glad to be back on our National-Day-food-and-sherry-pairing series with this yummy National Pretzel Day (April 26). Pretzels have been consumed in many parts of the world for a long time since the history of this staple snack food goes back to the seventh century! The popularity of these twisty treats spread across Europe during the Middle Ages. Seen as a symbol of good luck, prosperity, and spiritual fulfillment, pretzels were also commonly distributed to the poor, as a way of providing them with both spiritual and literal sustenance. In Germany—the country and people most associated with the pretzel throughout history—17th-century children wore pretzel necklaces on New Year's to symbolize good luck and prosperity for the coming year.
So, when did pretzels make their way to America? One rumor has it that these doughy knots came over on the Mayflower and were used by the pilgrims for trade with the Native Americans they met in the New World. German immigrants certainly brought pretzels with them when they began settling in Pennsylvania around 1710. In 1861, Julius Sturgis founded one of the first commercial pretzel bakeries in the town of Lititz in Lancaster County, PA. Today, Pennsylvania remains the American pretzel-making capital, as a full 80 percent of US-made pretzels come from the Keystone State.
According to imarcgroup.com "the North America pretzel market size reached US$ 1.7 Billion in 2022. Looking forward, IMARC Group expects the market to reach US$ 2.1 Billion by 2028, exhibiting a growth rate (CAGR) of 3.9% during 2023-2028." And that "the rising popularity of ready-to-eat and convenient snacks, along with the introduction of all-natural, cholesterol-, gluten-, and trans-fat-free pretzels for health-conscious consumers, is primarily driving the North America pretzel market." Way to go pretzels!
Why Manzanilla is the best wine to pair with pertzels
Pretzels aren't the most flavorful snack, but they hit the spot when it comes to toasty, salty goodness. For this snack, we looked for a wine that was gentle enough (not much tannin nor bold red fruit for instance), but with sufficient character to balance each of these crunchy, malty, salty bready nuggets. Salty food and sherry? You bet! Few wines in the world offer the levels of crisp salinity and savouriness, delicate toastiness, and fine yeastiness (bread dough) found in this manzanilla pasada. This is a serious wine capable of transforming your ordinary snacking into a memorable culinary experience. Have fun.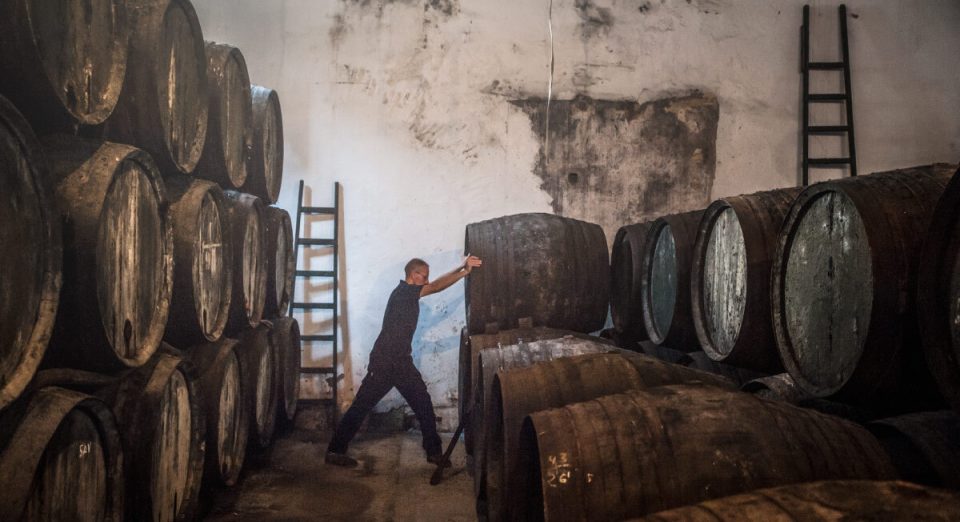 This manzanilla pasada is aged by Manuel Cuevas Jurado, one of the first almacenistas Lustau partnered  with. Established in a tiny cellar in Sanlúcar de Barrameda. Learn more here about the legacy of almacenistas in the region
Pretzels ingredient list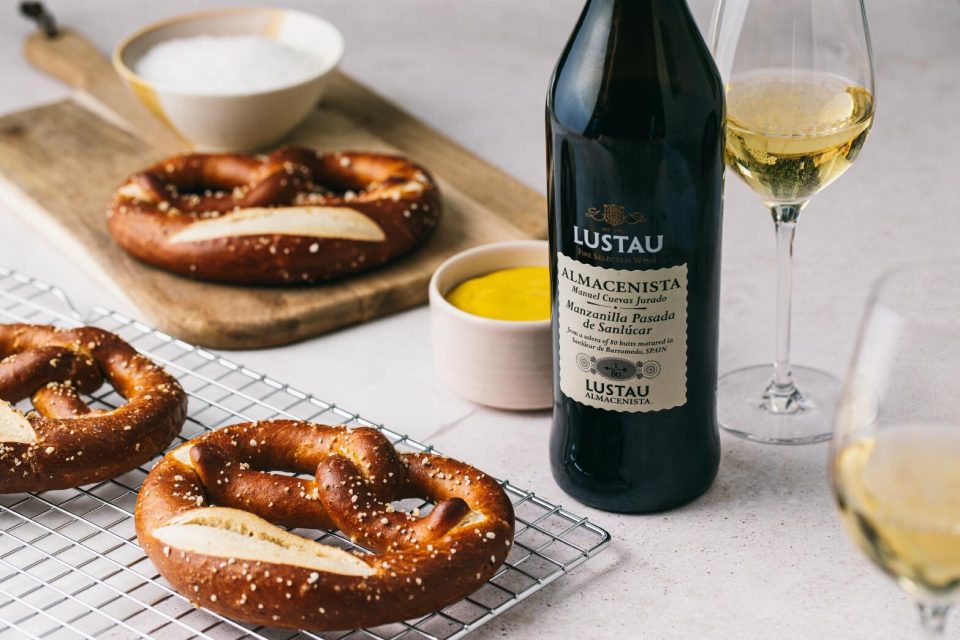 Recipe credited to: https://www.webstaurantstore.com/guide/560/types-of-soft-pretzels.html
Yields: 8 large soft pretzels
Bake Temp: 450°F
Cook Time: 10-15 minutes
Ingredients:
1 1/2 cup warm water
2 tsp. kosher salt
1 tbsp. sugar
1 packet active dry yeast
4 1/2 cups bread flour
2 oz. unsalted butter, melted
2 tsp. vegetable oil
Baking Soda Solution:
9 cup warm water
1/2 cup baking soda
Egg Wash:
1 large egg yolk beaten with 1 tbsp. water
How to prepare pretzels at home
Steps:
Combine the 1 1/2 cup warm water and sugar in your mixing bowl. Sprinkle a packet of active dry yeast on top and allow that to sit for 5 minutes or until the mixture begins to foam.
On the side, whisk the bread flour and kosher salt together, and add to your yeast mix, along with 2 ounces of melted unsalted butter.
Using the dough hook attachment on your stand mixer, mix on low speed to combine, and then change to medium speed and knead until the dough is smooth and pulls away from the side of the bowl, approximately 4 to 5 minutes. Note: If you do not have a stand mixer or dough hook attachment, you can mix by hand.
On the side, whisk the bread flour and kosher salt together, and add to your yeast mix, along with 2 ounces of melted unsalted butter.
Using a bench knife or sharp knife, cut the dough into 8 sections. Working with one section at a time while the others stay covered, pre-shape the dough. Then, starting in the middle and working outwards, roll the dough until it's about 24″ long.
To make its signature twisted shape, first make a U-shape, then cross the ends over twice and press them into the top of the pretzel.
Bring your baking soda solution to a rolling boil.
One at a time, carefully lower the pretzels into the water using a large, slotted spatula or spoon and boil for 20-30 seconds each. This will give the pretzel its signature golden-brown crust and iconic pretzel flavor. Place on a parchment-lined pan and brush the top of each pretzel with an egg wash, and then sprinkle with pretzel salt.
Bake for 10-15 minutes at 450 degrees Fahrenheit, until golden brown, and transfer to a cooling rack for at least 5 minutes.
How to Store Soft Pretzels:
Soft pretzels are extremely easy to store and save for later consumption. Once they have completely cooled to room temperature, store at room temperature for up to 2 days in an airtight container, or place in a freezer bag and store for up to 1 month in a freezer. If you freeze the soft pretzels, simply reheat in the oven at 350 degrees Fahrenheit for 8-12 minutes.
What to Serve with Soft Pretzels:
Soft pretzels are an easy way to keep up with consumers' expectations for menu customization. Toppings and dips allow you to customize and enhance the flavor of your soft pretzels, which adds perceived value to the pretzel and gives you the opportunity to increase its price and increase your profits! Some of the most popular toppings and dips that consumers love are:
Mustard
Cheese
Crab dip
Garlic parmesan
Cinnamon sugar
Melted chocolate
Get the latest news about Sherry in your inbox!