"The future belongs to those who believe in the beauty of their dreams." —Eleanor Roosevelt.
Wishing you nothing but health, wealth, and endless blessings in the New Year ahead, we'd like to celebrate in the finest possible way making us all joyful and looking our best. May all your wishes come true in 2023!
Speaking of looking your best, are you concerned about skin wrinkles? As they age, a lot of people spend lofty amounts of money buying pricey facial creams (some of them contain actual caviar) that promise a baby face if regularly used. If you care at all, you can do just that, or you can shovel out similar amounts of cash purchasing delicious sturgeon caviar and eating it! Caviar is a sophisticated food that boosts your skin's doses of collagen and fills you with antioxidants, vitamins, and minerals. According to some experts, daily consumption should be limited to about 30 grams though.
One hundred grams of caviar contains:
-Calories: 264kCal
-Protein: 24.6g
-Carbohydrates: 4g
-Fats: 17.9g
-Water: 47.5g
-Vitamin A: 905IU
-Vitamin B12: 20mg
-Potassium: 181mg
-Magnesium: 300mg
-Calcium: 275mg
-Vitamin E: 1.89mg
-Sodium: 1500mg
-Iron: 11.88mg
-Zinc: 0.6mg
Different types of Caviar
Although nowadays made in many countries around the globe, traditionally, the term "caviar" refers only to roe from wild sturgeon from the Caspian Sea and the Black Sea. The world's best caviar is produced from three varieties of sturgeon: Beluga sturgeon (Beluga), Russian sturgeon (Osetra), and Stellate sturgeon (Sevruga). The flavor profile of caviar may change depending on its type and even each batch, which can make pairing a challenge, but any of these three superior types of caviar above should gracefully perform with fine wines. Some others in the quality ranking are the Chinese Kaluga caviar, and the American white sturgeon caviar.
Why is sherry the best wine to pair with caviar?
As you are probably familiar with, champagne and ice-cold vodka are classic pairings for caviar. But we are here to expose you to the allure coming out of our favorite wines. Sherry is again a phenomenal selection to pair with the highest-quality culinary products such as the world's most glamorous caviars.
We are convinced that a large choice of sherry wines (both dry and off-dry) could be beautifully paired with the broad flavor profiles of caviar. Fully biologically, flor-aged sherries are commonly considered superb options to accompany a wide array of raw, cooked, and marinated seafood. A 'contrast' type of pairing between very salty, robust caviar and a sweeter Blend style could provide gorgeous synergies. Dry oxidative (darker) wines like some amontillados or young palo cortados can also fit the complex nuances of many caviars with remarkable precision. Again, the unparalleled diversity of sherry offers unlimited opportunities for enjoyable food and wine experiences.
Why Fino En Rama sherry is the best sherry to pair with caviar
Among caviar's typical taste descriptors are salinity, nuttiness, oiliness, richness, and intensity. Well, guess what? We found a wine that, on paper, looks very similar. An outstanding dry sherry like this Lustau 3 en Rama Fino de El Puerto, a top-barrel selection bottled early this year when the "flor" was at its peak, will interact with first-rate caviar at the utmost level, cleansing our palate each time with refinement and power. This "Grand Cru" class of wine exhibits phenomenal purity and tension. "Spring 2022 Release: Clean and fresh, with a slight taste of tangy yeast. Intense yellow color with golden hues. Very pungent and lively with notes reminiscent of the Atlantic breeze, roasted almonds, and hay." A love story.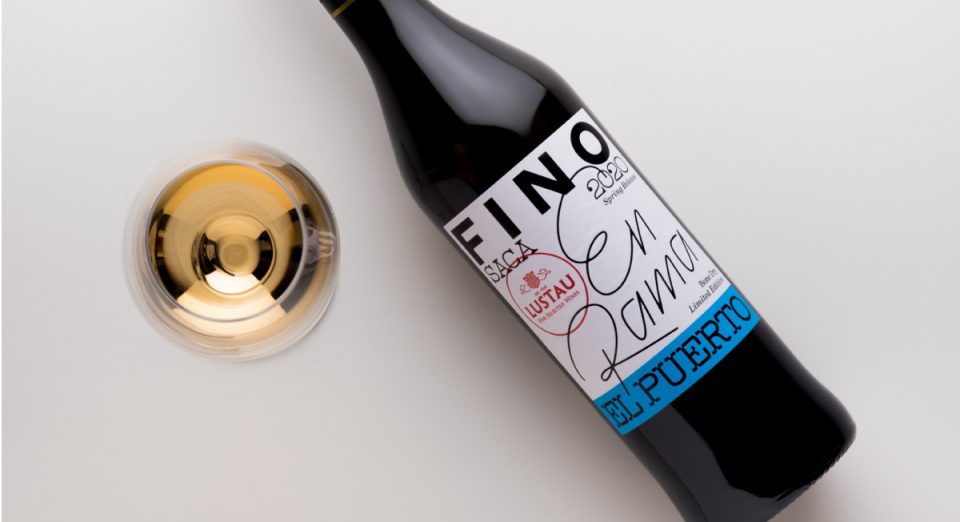 The affinity is instantaneous, the briny and deep-ocean character of the wine embraces the main flavors of the sturgeon's delicacy with finesse and harmony. The pronounced yeastiness and thicker mouthfeel of this fresh En Rama (unfiltered) release wonderfully match the buttery richness in the roe, with just enough overall salinity and suavity in both elements to provide continued pleasure after each interaction. Popping the eggs against your palate while savoring the wine is a playful textural sensation. A stylish treat that will hopefully make you smile and feel glorious.
Caviar recipe
Last month, we published a recipe for making homemade pancakes. Did you know that blini is another word for pancakes? Traditionally from Russia and Ukraine, blinis come in a variety of sizes and can be served in different ways. Blinis are an excellent 'dish' to help you scoop caviar like a star, traditionally over a dollop of sour crème fraîche.
But we wanted to get as pure as possible this time, no recipe today. Polish your mother-of-pearl spoons everyone! Try to acquire a good quality sturgeon caviar, 1 (or 2) oz. should deliver enough satisfaction, and it doesn't need to be Iranian 'Almas' – 1 kilogram (2.2 lb) US$34,500! I got a tiny jar of Caspian Osetra for myself.
Now, in an attempt to reach perfection, let's try to equalize the temperature of both elements, caviar, and wine. After you have them both in your hands, place them in the fridge for two hours, then, take them out of the fridge for 45 min, then, drink a small sip of wine, eat a half teaspoon of eggs, and enjoy another half ounce of wine. another half teaspoon… and continue to your heart's content.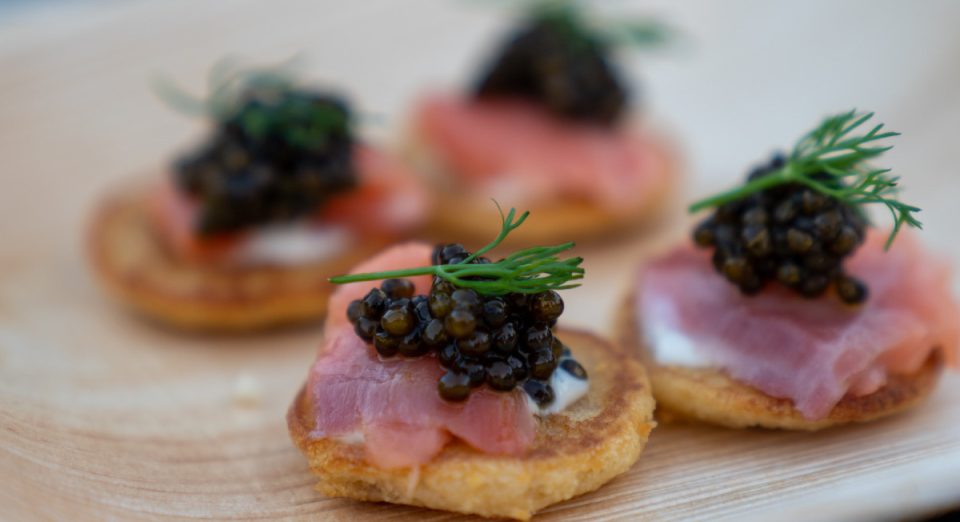 Friends are the family we choose for ourselves. Cheers to another year of camaraderie!
Get the latest news about Sherry in your inbox!