You may wonder why we're featuring a cocktail named after autumn as we enter into winter? Well, we wanted to highlight Jen LaForge and her outstanding cocktail! Jen recently won the 2020 Sherry Wines Amateur Mixology Challenge with her standout cocktail!
The Sherry Amateur Mixology Challenge (Sherry Wines – Consejo Regulador) teamed up with VinePair to promote and educate consumers on all things sherry as well as showcase the versatility of the fortified wine through cocktails. Jen's Otoño Fizz was a standout amongst the competition, utilizing Fino Sherry, Dussé VSOP, carrot cordial, lemon, Aquafaba, and soda for an unforgettable and savory take on a fizz.
Introducing Sherry Cocktail "Otoño Fizz" by Jen LaForge
"The Otoño Fizz is inspired by the flavors and colors of autumn in New England. I featured Lustau Fino because it's a stand-alone favorite of mine, but equally delightful in cocktails. Fino's crisp, nutty, baked bread notes play well with the anise carrot cordial I created for the Otoño Fizz. By juicing fresh carrots, sweetening with white sugar, and fortifying with Aguardiente, I was able to produce a vibrantly hued vegetal cordial with nuanced anise. The addition of aquafaba and soda water brings incredible texture to the fizz. Using the technique of throwing to further aerate the drink, it produces an incredibly pillowy mouthfeel. The refreshing crispness of Lustau Fino, the baking spices of the cognac, and bright lemon citrus harmoniously unite in the Otoño Fizz to create a crushable autumnal tipple."
– Jen LaForge
Sherry Cocktail Recipe : How to prepare the Otoño Fizz cocktail ?
Lustau Fino Sherry
Dussé VSOP
Carrot Cordial
Lemon
Aquafaba
Soda
About Jen LaForge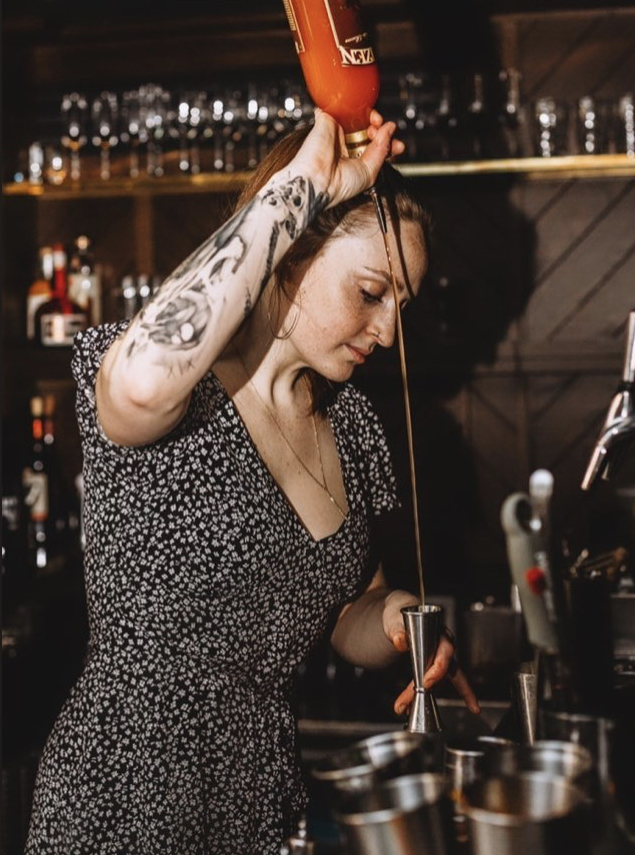 Jen LaForge is the Bar Manager of Blossom Bar in Brookline, Massachusetts: a tropical cocktail bar in a small town neighboring Boston's Fenway neighborhood. Having spent the majority of her life in New England, Jen often seeks creative inspiration from her time spent in Massachusetts and Maine. She has worked various roles in the hospitality sphere and has been bartending for 7 years. Jen is the winner of Consejo Regulador and Vinepair's Amateur Cocktail Challenge.
Get the latest news about Sherry in your inbox!