Today, sherry, like the rest of the wine industry, faces many challenges but along with these challenges come great opportunities.
Yes, COVID-19 was a dismal year in 2020 with sherry sales down. But 2021 is rebounding and sales will be higher than 2020 and may even surpass 2019 levels. Cesar Saldaña in the conclusion to the introduction to the Consejo Regulador "Memoria de Actividades 2020" correctly looks to the future with optimism.
In addition, Rob McMillan in his report on the "State of US Wine Industry 2020" stated, "None of us would be in a business without a certain amount of hope. But none of us would stay in business if we used hope as a strategy…. The US wine industry needs to adapt and change its focus and direction. The Sherry wine sector will also needs to adapt and change.
Declining Wine sales in 2020
In the "State of US Wine Industry 2020", a continued trend in declining off-premise sales in the US prior to COVID (as of October 5, 2019) was noted and this trend is expected to continue post-COVID:
TOTAL WINE SALES: -1.4% over prior year (2019)
$0.99 to $2.99 per Bottle: -4.0%
$3.00 to $5.99: -3.6%
$6,00 to $8.99: -3.5%
$9.00 to $11.99: +0.6%
$12.00 to $14.99: +8.4%
$15.00 to $19.99: +8.3%
$20.00 to $29.99: +7.5%
$30.00 to $49.99: +8.0%
Conclusion of Trends:
"The fact that the under $9 segment is continuing to slump is not a positive sign for the wine industry."
Wines priced from $9.00 to $19.99, while continuing to grow, this sales growth is in decline.
Only luxury wines (over $20 per bottle) are showing a slowing positive sales growth (with 60% of sales Direct-To-Consumer (DTC)).
Why have wine sales declined?
The "State of US Wine Industry 2020" cites Seven Headwinds (Challenges) and Seven Tailwinds (Opportunities) impacting the US Wine Industry:
7 challenges of the wine industry
1. Baby boomers, who control 70% of US discretionary income and 1/2 of the net worth in the US, are moving into retirement and declining in both their numbers and per capita consumption, while millennials aren't yet embracing wine consumption as many had predicted.
2. The industry has reached the point of acute oversupply due to diminishing volumes sold. That will lead to vineyard removals — and fallowing in some cases — and reduced returns for growers.
3. Absent offsetting promotion of the health benefits of moderate wine consumption, the cumulative impact of negative health messaging will continue to cast a shadow over consumption, particularly for the young consumer.
4. Wine imports and substitutes are a real and growing threat for mindshare among emerging wine consumers.
5. A lag in innovating alternative Direct-To-Consumers (DTC) strategies beyond the tasting room and club models is limiting DTC growth for family wineries.
6. Wine companies aren't addressing the values of the young consumer in their marketing. We aren't giving them a reason to buy wine over spirits.
7. "Labor availability is limited, and the price for labor is increasing."
7 Opportunities of the wine industry
1. With a good 2019 US economy, Gen Xers and boomers are demonstrating spending resilience and still increasing their purchases of wine above the $9 bottle price. That created another year of record US wine sales by value in 2019.
2. The large millennial population hasn't begun to embrace wine. While that's a negative, if we look at it from the other side, it's also the wine industry's largest opportunity.
3. Acute oversupply will allow for better-quality juice in lower-priced bottles, which improves value and will provide an incentive for some millennials to become more consistent wine buyers.
4. The better-quality regions of Oregon and Washington remain on a strong double-digit growth path.
5. Producers with long-established brands and those with good distributor relationships continue to perform above their peers.
6. The number and diversity of retail concepts and locations selling wine continue to grow to record numbers.
7. The business is developing both strategies and tactics around the DTC channel and continues to show sales growth through this path to the consumer."
US Wine sales strategies
Wine Packaging Size: Demand for 375 milli-liter and 500 milli-liter bottles are growing by 20% and 5% respectively. Demand for the traditional 750 milli-liter bottle is shrinking by about 2% annually. Why? The single diner or multiple diners with different tastes can order a glass for their unique needs. This is especially true for the baby-boomers who control 70% of the discretionary income in the US. Furthermore, the novice is more willing try a new wine with less risk at both the restaurant and the package store.
Cans: Cans are very popular with the younger consumer, providing a single serve option with an average portion size of about 200 milli-liters. Coke is increasing sales by decreasing the size of the can to 7.5 ounces or about 222 milli-liters.
Varietal: Young consumers find the appeal of premium wines under $20 appealing. Hence the growth of Prosecco at 11.5%, Rose at 5.5%, and Sauvignon Blanc at 2.4%.
Imports: Imports have grown in the US from 20% in 1980 to about 30% today. Younger, value-conscious consumers notice well-made and competitively priced imported wines. Today, some winery owners are even selling foreign wines at their winery.
Demand is key – How demand for wine has changed with generations
Baby-Boomers are the dominant consumer of wine in the US with 70% of disposable income & 50% of wealth. Average baby-boomer is 66 years old in 2021 but are continuing to work past normal retirement and continue to buy wine at 66 years old.
Gen Xers are in their prime spending years and are the largest growth component, but their numbers are smaller compared to the baby-boomers and millennials.
Millennials are about 32 years old and lagging in wine consumption compared to the older generations. They have student debt, unemployment with recessions, and have more slowly accumulated wealth. They prefer craft beer and spirits over wine. When they do buy wine, they spend the most per bottle than the other ages. They are only drinking about 17% of premium wines (compared to 35% for Gen Xers and 40% for Boomers), but are responsible for almost all the growth of the luxury wine market. 11% to 20% of millennials consume wine, but 33% of millennials consume other luxury goods. Their demand is the key to riding the tailwinds of opportunity and overcoming the headwind challenges.
Wine Marketing – Marketing is the key to changing the demand curve.
"The brand is not selling a rational benefit, but an emotional experience."

– Sally Hogshead in "Fascinate"
Emotion sells, logic justifies the decision that emotion made.
Unfortunately, traditional marketing has focused on appealing to the logical left brain and a focus on facts, understanding data, connecting the dots, and applying information. The discussion so far has focused on facts, data, and application of traditional marketing.
Neuroscience, Emotional Quotient, and Mindfulness have scientifically proven that buying decisions are made in the logical emotional right brain and the logical left brain is used to justify that emotional decision. It is critical to be able to identify, access, and influence emotions; properly express emotions; and use emotions to facilitate thinking. In addition, the Ventral Tegmental Area of the brain is heavily involved through an intricate array of neurocircuitry that plays a pivotal role in the "reward" (or "feel good") part of the brain to further enhance the experience of drinking wine.
There are many ways to connect emotionally with the consumer, but one of the most powerful is passion. Passion differentiates Sherry from other luxury goods. Passion is engaging, heartwarming, and inspirational.  passion elevates emotions and connects us to something bigger than ourselves. Passion is:
SENSORY: Engages our senses with food, friends, and motion
EXPRESSIVE: Passion brands use VIVID words, colors, and images
WARM: Passion brands wrap us up in a warm blanket and serve us mental images of food and wine
OPTIMISTIC: Life is good brands. They bring out the best by showing us how good things can be, making us want to jump in with both feet
SOCIAL: These brands are made to share and participate in the conversations.
REWARDING:  At a neurochemical level, the physiology of the brain lends itself to all the feelings above.
Sherry – The perfect option for the future.
Sherry engages all our senses, warms our heart, and inspires memories and future desires of joy with food, family, and friends.
Sherry engages all our senses, warms our heart, and inspires memories and future desires of joy with food, family, and friends. Starting with the sound of the cork being removed from the sherry bottle, transitioning as we see the beautiful color being poured, then to the exquisite aromas as we bring the wine to our nose, next the taste as the wine enters our mouth, and, finally, the feel of the alcohol moving down our throat and warming our bodies. As we move our glasses to toast with family and friends

Sherry is expressive with vivid colors and images.  Look at all the lovely colors of sherry! There is a color for everyone!
In addition to the colors, it's the warmth the various sherry aromas and an infinite variety of foods offer us.  Sherry is the perfect pairing for a diversity of foods, as shown with Tapas, there is literally a sherry for every type of food, including:
Fino: Iberian ham, pork loin, salted-cured tuna, and other fish and seafood dishes. For more natural sherry flavors, try fino En Rama.
Manzanilla: seafood, fried fish, anchovies, cured meats, salads, and with ajoblanco or salmorejo cold soups. I love fino En Rama for its stronger, natural flavors.
Amontillado: broad beans, artichokes, asparagus, grilled or sauteed onions with bluefin tuna. I love nuts and the nuttier flavors, preferring the 20 year old VOS and love even more the nuttier aromas of the 30 year old VORS.
Palo cortado: grilled fish, sausages, mash. Palo Cortado also comes with the nuttier aromas of the 20 year old VOS and the 30 year old VORS.
Oloroso – tripe, oxtail, pork cheeks, or pig trotter stews. In addition to the nuttier flavors of the 20 year old VOS and 30 year old VORS, there is Lustau Emperatriz Eugenia Oloroso, which is great as an aperitif or with hard cheeses and cured meats.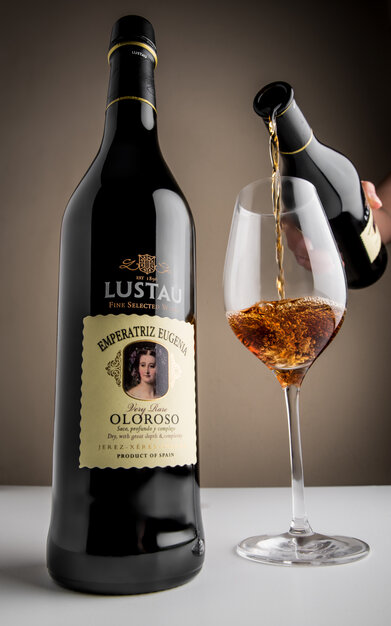 Cream Sherry – appetizers with roasted nuts or cheese or paired with foie gras.
East India Sherry – crème brulee, hard cheeses, pudding.
Pedro ximénez – by itself or with dark chocolate, blue cheese, citrus fruit. Try the 20 year old VOS and the 30 year old VORS for a rare treat!
When enjoying sherry and foods with family and friends, we feel and share the joy and warmth of great memories. Sherry is made to share loving conversations with family and friends and participate.
Sherry brings out the best in foods, families, and friends. Life is good with sherry! We are grateful for all our blessings. Sherry enables us to go to bed with a smile on our face and jump out of bed in the morning with both feet in anticipation of what we can enjoy that day and in the future!
The market differentiation for sherry is its passion and its diversity!
Yes, Cesar Saldaña is correct in looking to sherry's future with optimism. By marrying the logical left brain with the emotional, creative, and artistic right brain, sherry's best days are ahead!
Article written by Bill Stefan (Vice-President, American Wine Society) and Michael S. Wilson, MD (Wine Educator, American Wine Society)
Get the latest news about Sherry in your inbox!