As someone has said before, Fettuccine Alfredo sounds much like a dressed-up relative of the more peasant Mac and Cheese, although, when prepared with love, they can be equally delightful!
Serving pasta with butter and cheese is an old Italian tradition in texts dating back to the 15th century. But the story says that Fettuccine Alfredo was popularized by Alfredo di Lelio, who featured the dish at his restaurant in Rome in the early to mid-1900s. The "ceremony" of preparing it tableside was an integral part of the traditional dish, and as the dish became widespread it eventually made it to the United States, where it simplified, yet has probably gained more fame in the past century than in its home country. As has often happened, over time, the American take has shifted to a more commercialized version—with heavy cream and other ingredients in this case—aiming to speed up the process, and somewhat altering the authentic composition of the dish and/or the technique involved. To remain true to the original recipe though, heavy cream should never be added, and, conversely, some degree of patience should be employed. Remember, good food usually cooks slowly! Like in other Roman staples, the idea is to emulsify starchy pasta water, cheese, and butter. Adding the butter and then the cheese to the pan gradually, making sure everything has come together before you whisk in more, will provide the desired texture. Extremely important as well, the selection of high-quality cheese [and butter] will be crucial to obtaining the utmost results. Be extremely choosy here!
Why Sherry is the best wine to pair with Fettuccine Alfredo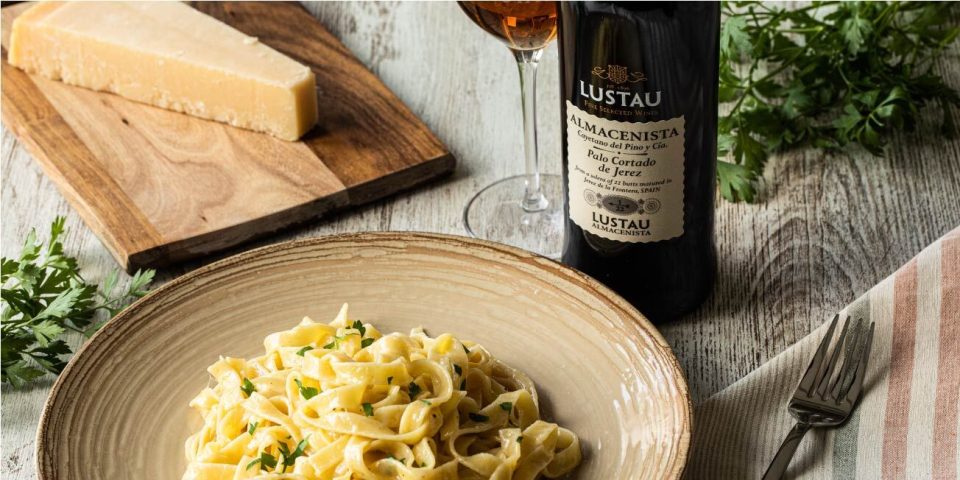 Back to the subject, sherries (and any great wine for that matter) ideally enjoyed in good company and with fine food. Some may lean toward the thought that sherry must be paired with food to show its best. Personally, I am not keen on the idea of a wine for dining versus one suited just for sipping, but I strongly support that sherry's multiple layers of flavor come alive when paired with food. Similarly, sherries oftentimes magnify the flavor of food – an example of this could be noticed when marrying a subtle fish gently cooked (steamed) with a fino, the wine will perform like adding salt to the dish. Thus, we could say you win both ways. We wrote a very interesting article about pairing sherry wine and food. It can be used as great guide to pair any kind of sherry wine with any kind of food.
Best Sherry to pair with Fettuccine Alfredo
We were saying that this fancy-sounding classic Italian pasta delicacy is a rather simple preparation—"simplicity is the ultimate sophistication, Leonardo da Vinci"—only requiring three basic ingredients! If you check back on our past post on a slightly more complex Mac and Cheese recipe, you'll realize that we selected a pretty upscale pairing wine to go with it. If Fettuccine Alfredo is supposed to be a more special occasion type of dish, what are we going to drink this time? How about small sips of this magnificent Lustau Almacenista Palo Cortado? If you did your homework by getting top-notch dried pasta, butter, and Parmesan cheese, and add your extra pinch of amore, you certainly are up for a memorable experience… sono molto felice!
Fettuccine Alfredo ingredient list
Looking for that purity and authenticity, we found this 'ultra-original' approach from Saveur calling for:
Ingredients:
1 lb. dried fettuccine
1⁄2 lb. unsalted butter (2 sticks)
1⁄2 lb. finely grated parmesan (about 3 1⁄4 cup)
Fresh Italian parsley (optional)
Equipment:
6-Qt. Pot
Large Platter
Large Spoon
Large Fork
12″ Skillet
Tongs
Plates
Fettuccine Alfredo recipe: How to prepare a Fettuccine Alfredo
Bring a 6-qt. pot of salted water to a boil. Add fettuccine and cook, stirring occasionally, until pasta is al dente, about 8 minutes.
Meanwhile, cut butter into thin pats and transfer to a large, warmed platter. Drain pasta, reserving 3⁄4 cup pasta water, and place the pasta over the butter on the platter.
Sprinkle grated parmesan over the pasta and drizzle with 1⁄4 cup of the reserved pasta water.
Using a large spoon and fork, gently toss the pasta with the butter and cheese, lifting and swirling the noodles and adding more pasta water as necessary. (The pasta water will help create a smooth sauce.) Work in any melted butter and cheese that pools around the edges of the platter. Continue to mix the pasta until the cheese and butter have fully melted and the noodles are coated, about 3 minutes.
Serve the fettuccine immediately on warmed plates. Sprinkle some fresh parsley on top.
Get the latest news about Sherry in your inbox!